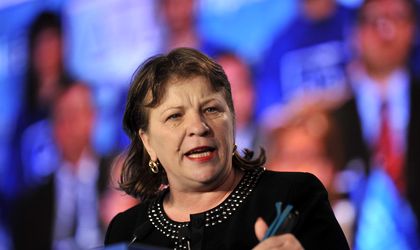 Romania's leading Liberal member of the European Parliament has sent a letter to Nigel Farage inviting him to visit the country, after the UKIP MEP made disparaging remarks about Romanian immigrants to the UK.
"There has been quite a lot of discussion of my home country by you and your colleagues recently," the letter said. It toldl Farage to, "face his fears" and visit Romania, suggesting he would be, "happier for it".
"Romanians are a hardworking people, with a troubled past and an incredibly beautiful country," wrote Norica Nicolai, an MEP from the country's National Liberal Party, which is affiliated with the Alliance of Liberals and Democrats for Europe parliamentary group.
The MEP, who is the vice-chair of the security and defence subcommittee in the European Parliament, hit back at UKIP characterizations of Romanians as a criminal threat. Farage became the subject of fierce criticism last week after saying that he would not want Romanians as neighbors.
Nicolai's letter suggested that Romanians are unlikely to come to the UK in the large numbers that British UKIP and Conservative politicians have feared.
"Romanians, in a very large majority, do not want to leave our country for long periods. Despite our economic troubles and our problematic geographical location, sitting on the divide between East and West, we love it here and take a little piece of the country everywhere we go," she said.
"You can see in Romania scenes which would make any landscape painter dream, filled with a myriad of castles, monasteries and picturesque villages", she added. Nicolai also made reference to The Prince of Wales' affection for the country. Prince Charles has bought and renovated a number of properties in rural Romania.
"Above all you should meet the people," Nicolai told Farage. "You should experience their hospitality, try their diverse and delicious dishes and listen to their stories. That could be dangerous, however – you might find yourself wanting to return time and time again."
Nicolai suggested that Farage's repeated remarks about Romanian immigrants showed that he had "little else than one line" in his political discourse.
"So take this opportunity to visit Romania, to maybe take a first step in understanding these people you are so apprehensive of," she said.