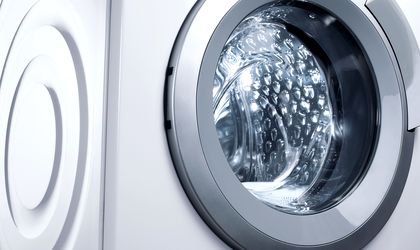 The acquisition of white goods is still a major decision for the typical Romanian household. In addition to the country's low purchasing power, producers and vendors in this industry have been impacted by currency exchange rates. The good news is that the consumer has grown more educated, and now increasingly considers energy efficiency a must-have feature when selecting a product.
By Otilia Haraga
"Customers have an average budget of approximately EUR 230- 250 per single acquisition," Mioara Bolozan, marketing manager in Whirlpool Romania, tells BR. Romanians are steadily becoming more and more 'green' oriented. "Our customers are very interested in the ecological features of our devices; I believe that one of the top three questions they are asking is how eco friendly the device is," Theofilos Romaios, sales and administration manager at Miele Appliances, tells BR.
He adds that when people are buying major domestic appliances, the decision is completely different than any other sales-related actions. "These are not products that you change every now and then (…). Because of that, they are looking for appliances that are reliable, meet their needs now and in the future, are well designed and user friendly," says Romaios.
Technical specifications are among the basic features consumers look at when deciding to buy electronic home appliances. "What is encouraging is that after years of effort in educating the market on the benefits of energy-efficient products, consumption has come to play a very important role in the purchasing decision. We can say that energy efficiency is on the list of basic requirements when such products are chosen," says Bolozan.
Consumers' approaches to white goods vary. "First and foremost, there are many clients who are interested in the technical features. These are people who wish to invest in technology because they know that on the long term, such an acquisition will bring them major benefits," says Bolozan.
There is another category of buyers who prefer to make their purchase "with their soul," going for products that "glamorize" them, she says, and for such people the visual impact plays a very important role. "The design of the products in the portfolio can often tip the balance when such purchases are made," says Bolozan.
One possible reason is suggested by Romaios. "White goods are very much related to the kitchen furniture customers will decide to have in their home. Usually when they choose to have expensive kitchen furniture, appliances will have a high value as well," he says.
Currency exchange rates and low purchasing power cool market
"Last year, the large home appliances sector reached the value of EUR 328 million, maintaining second place in the ranking of durable goods. Of this market, fitted electronics represent between 8 and 10 percent so we are talking about a market of fitted products of more than EUR 30 million. We predict stagnation in the overall value of the market of large home appliances this year," says Bolozan.
She outlines that there are two main categories of products on this market. The first is products with a high penetration, which can be found in nearly any household: washing machines and cooling appliances. "These have a large weight in sales, and the variations in these segments are relatively low," says Bolozan.
The second category is newer home appliances, with still low penetration on the market. "This category of products is developing from year to year, as consumers are discovering their benefits," says Bolozan.
Last year, sales of dishwashers were particularly buoyant, going up 25 percent. Also, fitted hobs and ovens saw higher growth than that of the market, up 15 percent last year, she says.
A look at the latest GfK TEMAX survey on the Romanian durable goods market in the second quarter of the year shows that the market is declining compared to last year.
White good sales posted a EUR 10 million advance on the first quarter of the year, but a 10 percent decline compared to the second quarter of 2011.
"It is important to mention the impact of the currency exchange rate on this market: while calculated in EUR, this range of products has seen a 10 percent drop, but expressed in RON, the decline is only 3 percent. When calculated in relation to the national currency, some categories of products such as ovens, dishwashers, freezers and hobs have reported growth," stated the GfK report.
The exchange currency rates have proved to be a problem for companies in this field. For instance,
most of the products sold by Whirlpool in Romania are brought from production units in EU member countries. Thus, cooling products, such as refrigerators and air conditioning units, are made in Poland, while washing machines are brought from plants in Slovakia and Italy. Poland is also the source of the company's locally sold dish washers and cooker hoods. The ovens and hobs are brought from Italy. Hair dryers come from the French production unit. Microwave ovens, however, are not made in Europe, but brought from the company's plant in China.
"The upward trend of the EUR-RON currency rate brought an obvious growth in our costs. However, the decline in purchasing power at local level has made it difficult to transfer these costs to the final price of the products," says Bolozan.
In the future, Whirlpool plans to give more attention to the segment of premium products, specific to the Whirlpool brand, which has been neglected over recent years, due to the drop in purchasing power," adds the manager.
The evolutions of product ranges within the white goods sector have been different. Developing ranges of products such as ovens, cook tops, dishwashers and dryers have only lost slightly in sales, compared to the same period of last year. However, even though these small markets have potential, they only make up 12 percent of the market of large home appliances.
Despite the expectations of retailers and producers, the intense promotions of coolers and freezers did not manage to boost sales by value in 2011," says the GfK survey. And microwave oven sales are down by approximately 20 percent in terms of units from last year.
At the same time, the market of washing machines continues the decline that started in the first quarter of the year. "Consumers are lacking in trust and willingness to buy, and are being more reserved about acquiring large home appliances at this time of the year," says the GfK survey.
For Miele, which forecasts a turnover of EUR 2.5 million this year, washing machines are the best selling products, says Romaios. "After that come hobs, ovens and dishwashers." Products that have posted lower sales included devices such as "wine conditioning units with excellent quality but with only a few people willing to buy them," says Romaios.
Miele chooses the products it sells on the Romanian market from the German product range. "Our strategy is to have a small number of partners, loyal to the brand. Based on this philosophy we have ten sale points through kitchen studios, our exclusive shop in Brasov, and we have chosen to collaborate with only one electrical goods chain store," says Romaios.