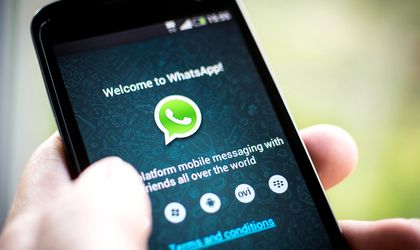 About half of Romanian smartphone users access the application WhatsApp in Romania at least once a week, and 27 percent use it daily, according to a study by iSense Solutions. The application has a higher popularity in Bucharest, where it is used daily by 40 percent of smartphone owners.
According to the study, the main reason for using WhatsApp is the free access, 43 percent of users appreciating the fact that they can send messages at no cost. People aged between 18 and 24 years appreciate this feature most (64 percent). Other advantages Romanians appreciate the app has are being able to send pictures easily and quickly (42 percent), ease of use (41 percent) and the ability to communicate and distribute text or photos to a group of people quickly (31 percent).
"We believe that WhatsApp's popularity will continue to grow among Romanians, as long as the app will remain free. However, even so, it will be difficult to reach the level of success of the Facebook application, used daily by 69 percent of smartphone owners and by 84 percent at least once a week. Instead, the Instagram application is not accessed at all by 72 percent of the Romanians having a smartphone," said Traian Nastase, iSense Solutions managing partner.
Regarding the use of WhatsApp for marketing purposes, 40 percent of users do not want to be approached by a company through this application, for promotion of products or services.
"The main services for which users agree to be approached by a company through WhatsApp are those offering assistance in the information about goods and services of interest to them (40 percent). Also, 46 percent of users of this application would agree to provide their phone number to be approached by companies via WhatsApp. Even if the application is frequently used by more women (31 percent of women use it daily, compared to 22 percent of men), the study shows that men (54 percent) are more open than women (39 percent ) to provide their phone numbers for marketing purposes," added Andrei Candia, iSense Solutions managing partner.
The results are drawn from an online survey conducted by iSense Solutions on a sample of 1,069 respondents, representative of people aged over 18 in urban areas in Romania. Results have a degree of error of +/- 3 percent at a confidence level of 95 percent.
iSense Solutions offers integrated marketing services: research, marketing consulting and communications, and digital sales. The company was founded by Traian Nastase and Andrei Canda, specialists with over 10 years' experience in market research and a solid academic expertise (doctorate in Sociology and Marketing, respectively).
Natalia Martian