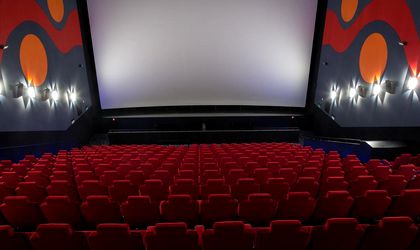 In terms of new Romanian movies, 2015 was quite a poor year for premieres, but in 2016, over 20 Romanian film productions, directed by internationally acclaimed directors, are expected in theatres across the country. BR went behind the scenes with Catalin Anchidin, one of the best known film press officers from Romania to find out what's worth seeing.
Oana Vasiliu  
Probably the best news is that Romania will have a film in competition at Berlin International Film Festival (Berlinale), this February. Romanian independent production Ilegitim / Illegitimate, directed by Adrian Sitaru, will have its world premiere at the 66th edition of the Berlinale. The film was selected in the Forum section of the event, which will show a total of 44 films in its main program, 34 of which are world premieres. "Avant garde, experimental works, essays, long-term observations, political reportage and yet-to-be-discovered cinematic landscapes: the International Forum of New Cinema, Forum in short, is the most daring section of the Berlinale", notes the festival's website.
"Ilegitim it's a combination between humour and drama in a tragicomedy about love (conjugal, fraternal, physical), about the end of relations, for or against life choices, and about the physical love between two brothers, a taboo topic very little discussed but included in numerous specialized researches," declared director Adrian Sitaru in the press release announcing movie's nomination. The cast includes Adrian Titieni, Bogdan Albulescu, Alina Grigore, and non-professional actors from the InLight – Robi Urs acting school.
The Romanian season will open on February 12th,  with the third feature-film directed by Marian Crisan (Palme d'Or winner for Best Short at Cannes) – Orizont. The movie is based on the classical Romanian novella, The Mill of Good Luck / Moara cu noroc by Ioan Slavici. Trying to find their luck after many years working abroad, husband and wife Lucian (András Hatházi) and Andra (Rodica Lazar,) take shelter in a remote cottage hidden somewhere in the Apuseni Mountains. All is seemingly well until they realize that everything that happens on the mountain, including their life, is controlled by Zoli (Bogdan Zsolt,) an outlaw involved in illegal deforestation. The family and their house guest, Orizont, will soon get caught up in the conflict between the lawmen and the local logging mafia. The cast also includes Emilian Oprea, Maria Seles, Ioan Paraschiv, Valeriu Andriuta and Elena Purea.
Director Cristi Puiu returns to the big screen with Sierra Nevada, a film showing the history of a commemoration that no longer occurs. The film stars Mimi Branescu and Bogdan Dumitrache. "Sierra-Nevada is a story about a commemoration that never gets to take place, a story about those who choose to escape into fiction and hide their fears behind 'concrete reality' when overwhelmed by a grief they cannot understand. It is the imperfect restitution of an unorthodox requiem," Cristi Puiu says in Director's Notes.
Also, the acclaimed director Cristian Mungiu will come back to the silver screen, presenting Family photos / Fotografii de familie. Mungiu's latest film is a family drama about parenting, set in a small Romanian town where everybody knows everybody. It is the first feature in which Mungiu focuses on a male protagonist, a doctor. The cast includes Lia Bugnar and Vlad Ivanov.
Director Radu Mihaileanu will reveal this year The History of Love, a movie based on Nicole Krauss's bestseller, a love story spanning 70 years, which was filmed in Canada, New York and Romania. Derek Jacobi, Sophie Nélisse, Gemma Arterton and Elliott Gould play the main characters, but Romanian actors are also cast: Mihai Calin and Ovidiu Cuncea are among the actors.
Well-known Nae Caranfil returns to the big screen with 6.9 on Richter Scale, a comedy with musical elements.
Cinephiles will be able to see Ada Condeescu and Alexandru Potocean in Catalin Mitulescu's latest feature film, Rumero. The movie tells the story of Radu, a young man who left for Italy to work, coming home after a year. He finds Monica, his wife, totally changed, and their child, Luca, even more grown up than he expected.
Director Igor Cobileanski will bring to the screen The Eastern Business / Afacerea Est, a black comedy casting Ioan Sapdaru and Constantin Puscasu. The movie follows Marian, a 45-year-old choir singer who desperately needs money if he wants to marry his beloved Veronica. In order to get the start-up money for a profitable business, Marian sells his scooter to Petro, a 40-year-old construction worker. It is the bumpy beginning of an unlikely friendship, as the two men become business partners in search of a quick buck.
Cristina Iacob will return with another Selfie story, How to Get Married in 3 Days/Cum sa te mariti in trei zile, this time following Roxi, Ana and Yasmine as they hold a wager: the first one who manages to get married in three days will receive everything her two friends have, from clothes and mobile phones to pets and books.
Iura Luncasu will present Sweet Little Lies @ Downtown / Minte-ma frumos @ Centrul Vechi, a sequel to the romantic comedy Sweet Little Lies / Minte-ma frumos, which was a hit in domestic cinemas in 2012. The film follows the love entanglements between five young actors rehearsing The Game of Love and Chance by Marivaux in a theatre located in the old part of Bucharest.
The Romanian actress Dorotheea Petre will interpret the role of Mara in The Miracle of Tekir / Miracolul din Tekir, directed by Ruxandra Zenide. Set in the Danube Delta, The Miracle of Tekir follows the story of Mara, a young mud healer from a village of fishermen who must flee when she mysteriously falls pregnant. Hired in a spa hotel, she meets a strange woman who cannot have children.
Director Anca Damian will also present a dramatic feature film centred on a son-father relationship, In Perfect Health / Perfect sanatos. Anca Damian cast her son (Anghel Damian) in the lead role of a young man who undergoes a Hamlet-like quest to discover what was behind the suspicious death of his father (Vlad Ivanov).
Romanian directors Radu Jude, Radu Potcoava, Bogdan Mirica, Paul Negoescu, Dan Chisu will also screen their productions this year, but in the last part of 2016.