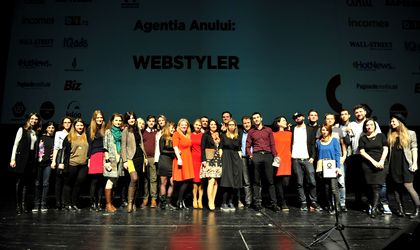 Webstyler became The Agency of The Year, winning four trophies at the 15th edition of the Internetics awards. Therefore, the agency succeeded in receiving the award for the seven year in a row. Webstyler won for the campaign "Fan's Arena" in the Culture category (Viral Non Video section), Social Media (Online PR Special Projects section) and Interactive Campaigns – Full Digital Campaign, in the Art, Culture, Media and Entertainment section and for the campaign "Misspelling on Sale" for Westwood, brand DOMO.
But the most awarded agency was Publicis Bucharest, who took home 6 trophies : 3 for the campaign "Pegas Urban Color", 2 for ACR Street View Test and one for the mobile app Orange – 4G Entertainment Subway. Thanks to the agency's efforts, the brand Automobil Clubul Roman also received two special awards from the jury: Most Creative Client of the Year and Best Use of Technology.
Several awards were also received by Tribal Worldwide Romania and Leo Burnett Romania, awarded for the #MecSaysHiToJunimea (McDonald's Romania) campaign, and "Come and vote!" (Asociatia Pro Democratia) and "#Smartists" (Bonux 3 ȋn 1) campaign.
Other agencies that were on the stage last night were: CAP, CohnandJansen JWT, Digital Star & 23, FCB Bucharest, Jazz, Kubis Interactive, Ogilvy Group Romania and SENIORHYPER.
The awarded brand were: Active Watch Romania, Asociatia Pro Democratia, Atelierele Pegas, Domo, ING Bank, McDonald's Romania, Mega Image, Orange Romania, Penny Market, Procter&Gamble, Romanian Football Federation, SOR (Romanian Ornithological Society) & Natura 2000, Special Olympics Romania and Ursus Breweries.
In the Internetics 2015 competition were entered 167 works, by 30 agencies and out of them 13 agencies were rewarded with 22 trophies.  The campaigns were judged by a Jury of 22 online specialists. The president of the Jury was Tony Högqvist, Executive Creative Director & Founder Perfect Fools from Sweden.
Founded and organized by The Institute, Internetics is a branding, marketing and online advertising festival that is setting the standards in the Romanian online communication by awarding the best interactive campaigns, sites and online promotional tools and encouraging the creativity and the strategy.
Internetics started in 2001, at the beginning of the online Romanian industry, contributing along the years at its rise and development.
The Institute is the founder of Romanian Design Week, DIPLOMA, AdPrint, Internetics, Institute, The Magazine and The Agencies' Night, organizer of the Romanian Effie Awards Romania and the ADC*RO School.
Find here the full list of winners.
Romanita Oprea