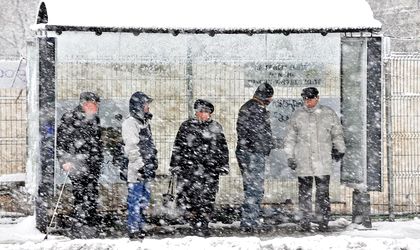 Romania's weather is set to worsen significantly this weekend, with the National Meteorology Administration (ANM) issuing code yellow and code orange warnings for several counties and Bucharest, according to the ANM website.
The Code Yellow warning is for heavy wind, moderate snowfalls and blizzards and will come into effect on Saturday evening at 20.00.  Snowfalls are set to expand from the Danube Delta into the southern and south-eastern regions of the country where "a heavy layer of snow will be deposited and winds will intensify up to 55-65 km/h, with snowstorms forming", says ANM.
For Bucharest and several Romania counties (Buzau, Prahova, Ilfov, Giurgiu, Ialomita,Calarasi, Braila, Vrancea, Galati), the warning is of Code Orange also taking effect on January 16 at 20.00. There will be temporarily strong snowstorms, and wind blasts will reach speeds of up to 70-80 km/h. "Snowdrifts will appear and visibility will be reduced to under 50m", reports ANM. In Tulcea and Constanta counties, blizzards will reach maximum intensity in the first hours of Sunday.
As for the other counties, snowfalls will be temporary, and wind blasts will have speeds of between 35-45 km/h.
Andreea Tint