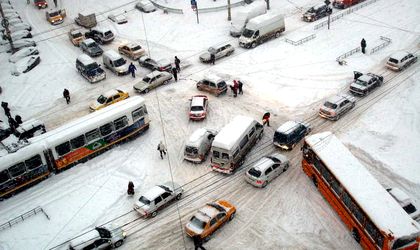 Winter has set over Romania once again, disrupting school schedules, and both ground and air traffic as authorities try to cope with the situation while the National Meteorology Administration (ANM) warns that the low temperatures will continue over the next days.
Due to the weather and heavy snows, school is out for the day in Bucharest and several other counties, including Ilfov, Ialomita, Calarasi, Giurgiu, Buzau, Tulcea and Vrancea, due to bad weather conditions, according to a press release from the Ministry of Education. Furthermore, in nine other counties, the partial cancellation of classes has been imposed. Further information regarding what the situation will be like Tuesday, January 19, will be available on the MAE website after 13:00pm on Monday.
In Bucharest, the local police department has increased the number of forces deployed in the streets where "over 500 police officers" are attempting to decongest traffic, affected both by the weather and the fact that 21 traffic lights weren't functional, according to a press release from the Ministry of Internal Affairs (MAI) Monday at 7.45am. "In the past 24 hours, 1,200 calls were registered by the Bucharest Police Department, reporting incidents related to the weather conditions", says MAI. They report that 25 collisions and five traffic accidents have taken place, "resulting in light injuries for four persons and severe injuries for one woman, who was crossing jaywalking", further adds MAI.
Several roads remain closed as of 10.30am, according to the Infotrafic Centre of the Romanian Police, but traffic over the A2 Bucharest-Lehliu highway has been resumed but "is being conducted in a controlled manner, with police teams accompanying the vehicle lines" and the Lehliu-Fetesti chunk of the highway remains closed. Further information regarding which other national roads are closed is available on the Romanian Police website.
The bad weather conditions are also affecting air traffic, with both incoming and outgoing flights on the Henri Coanda International Airport in Bucharest experiencing delays. As of 12:30pm, only one flight towards Sicily has been cancelled, but up-to-date information is available on the bucharestairports.ro website.
Regarding how the situation will develop over the next few days, ANM warns that even though the incidence of snowfalls will be reducing, gusts of wind will continue to intensify with speeds reaching up to 50-70 km/h and temporary blizzards. They also add that temperatures will continue to lower for the next few days over most of Romania.
Andreea Tint