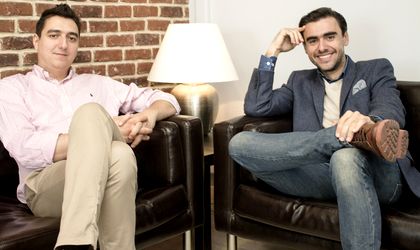 Two weeks ago, Publicis Worldwide launched Nurun Romania, agency specialized in digital integrated solutions. With offices in 21 countries and over 4000 employees, in Romania the agency is run by Calin Buzea and Liviu Toader, as co-managing directors. BR talked with them to find out more about the agency's plans and its context in the Romanian advertising market.
What does Nurun want to bring different on the Romanian advertising market?
Nurun is a human-centered design and technology consultancy agency, having an international proven track record of offering a unique, successful way of approaching the clients' transformational challenges of a connected world. Nurun Romania is part of this collaborative global structure with more than 4000 digital experts, allowing us to deliver best in class digital solutions to our local clients by accessing the latest instruments, methodologies and know-how from our colleagues around the world.
Who do you believe is your main competition at the moment and why?
The digital market in Romania has a positive trend and is very complex at this moment. Relevant digital solutions can come up from native digital agencies as well as from the technology shops, PR agencies or ATL focused only offices.
We believe that successful agencies seamlessly combine human understanding with relevant technologies in order to deliver complete digital communication solutions to their clients.
How would you characterize the Romanian digital advertising, both in terms of creativity and budgets? When do you believe that the online will be given the proper budgets?
Creatively speaking, the Romanian digital market is on a positive trend, by looking at all the projects that won prizes and nominations in the various international advertising competitions.
So, in terms of creativity, we believe that we are aligned to the international best practice standards, but in terms of budgets, unfortunately, there's still a long way there. Probably, in the next couple of years, we'll witness a significant shift considering the trend in which the digital budgets will grow faster than the overall advertising budgets.
How do you convince the clients to accept an idea that they find too courageous or outside-the box?
First of all, for us, the "too courageous or outside the box" ideas are only those that don't have the metrics and KPIs behind it. Is just a creative wheel of fortune.
We believe that out of the box idea, combined with measurable KPIs and rooted in powerful human insights, represents a creativity benchmark that all clients should relate to.
What is your main target for the first year (position on the market, festivals, clients)?
This year was a good one for Publicis digital in terms of awards; we've realized that we enjoy winning prizes. Especially in international competitions, so we'll go for them again. Our clients enjoy winning prizes too, so we'll help each other in the years to come.
What do you believe that are the main trends in digital for 2016?
Accountability. More and more clients go for the conversions. They want to know that their digital budgets are well spent and they will probably implement campaigns that have a high degree of accountability that generate conversions and contribute to their financial short and medium term business success.
Give us some examples please of Romanian digital campaigns that you like and you wished you had those ideas? Why?
Digital is just a medium that supports good strategic and creative ideas, part of the 360 communication environment. All campaigns should have a digital component. The campaigns that we appreciate are the ones digitally driven. No matter how small in terms of budgets they were, we've seen from the international competitions that Romanian digital agencies have a good performance track record in this respect.
Romanita Oprea