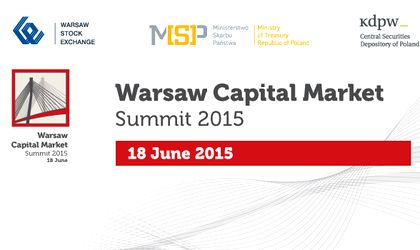 Warsaw Capital Market Summit 2015, to be held on June 18, is an international conference devoted to capital markets in Poland, and Central and Eastern Europe. This year's fifth edition will bring together investors, issuers, financial institutions and public administration representatives, as well as financial media from around the world and will take place in Warsaw at the Stock Exchange Center.
Warsaw Capital Market Summit 2015 is addressing international investors and companies interested in raising capital in Central and Eastern Europe. The event is organized by the Polish Ministry of Treasury, the Warsaw Stock Exchange (GPW) and Central Securities Depository of Poland with the support of partners – global and regional financial institutions, and consultancy and law firms. During the one-day event, Warsaw becomes the center of the region's capital and financial markets. Each edition of the conference gathers hundreds of participants from numerous countries including Austria, Greece, Romania, Turkey, the UK and Ukraine amongst others.
Favorable macroeconomic conditions, exposure to the global financial markets and a stable financial situation are the key to attracting investors and issuers interested in raising capital in the region. The objective of GPW as the biggest exchange in the region is to remain the market of first choice for investors and issuers in Central and Eastern Europe.
"(…) The Warsaw Capital Market Summit is one of the most important conferences devoted to the prospects and directions of development of regional capital markets, and an opportunity to establish new business relations. The topics of the conference are aligned with the broadly discussed EU project of building a Capital Markets Union aimed at facilitating access to capital by small and medium-sized enterprises. We are glad to meet prominent market experts and practitioners in Warsaw for the fifth time," stated in a release Paweł Tamborski, president of the Management Board of GPW.
Staff