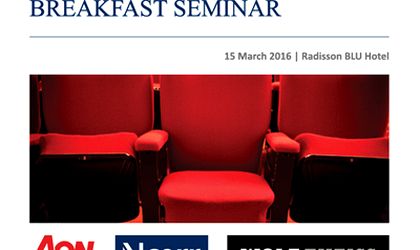 AON, Noerr and Wolf Theiss organize a business breakfast seminar in Romania on March 15th with focus on Warranty & Indemnity.
Renowned representatives of the local and international teams of the organizing firms (AON, Noerr, Wolf Theiss) have already confirmed their participation as speakers.
The Warranty & Indemnity Breakfast Seminar aims to offer all participants practice & business driven presentations and roundtable discussions, focused on transactional risks insurance (warranty & indemnity insurance, tax indemnity insurance, litigation buyout, environmental and other contingent risk transfer insurance, etc.).
The seminar will be held in English language.
Topics: 
– Romanian M&A negotiations and appropriate allocation of transactional risks
– Due diligence findings vs representations and warranties and indemnities from the perspective of WI insurance
– Market and trends for WI insurance in Europe
– Bid differentiation – how Buyer/ Seller are using WI in actual deals
– Use of WI by Sellers in auctions – increased use of "Seller to Buyer" proposals in deals
– Mitigating tax risk through tax indemnity insurance
Speakers:
– Ileana Glodeanu, Partner, Head of Corporate/M&A Practice Group, Wolf Theiss Bucharest
– Mihai Macelaru, Associated Partner, Head of M&A Practice, Noerr
– Adriana Grecu, CEO, Aon Romania
– David Layton, Director, Transactional Liability Unit (TLU), Aon Global Broking Center
– Christoph von Lehmann, M&A Practice Leader CEE, Aon Strategic Advisors & Transaction Solutions (ASATS)
– David McCann, Director, Transactional Liability Unit (TLU), Aon Global Broking Center
Program:
09:00 – 09:30 Registration & welcome coffee
09:30 – 09:40 Introduction and welcome speech
09:40 – 11:30 Presentations & roundtable discussions
11:30 – 12:00 Q&A session
Registration:
RSVP by March 8th, 2016 by email to Alexandra Nicolae
Please note that the number of seats is limited.