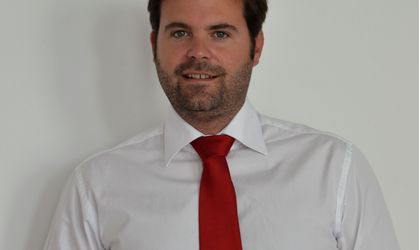 Local employers resuming recruitment and increasing extra-salary benefits for their employees, combined with an expanding appetite for new products such as gift cards, will return the local voucher market to growth in 2015, Vianney Du Parc, GM of Edenred Romania, tells BR.
By Simona Bazavan
How much do you estimate the local market for extra-salary benefits is worth and how does this compare with previous years?
The voucher market's annual value is estimated at EUR 1 billion, given that 2 million employees, meaning almost half of the country's employed population, receive meal vouchers from their bosses. Companies generally grant each employee one meal voucher per working day with a legal daily value of RON 9.35. The monthly value for these meal vouchers is approximately RON 205, which amounts to 30 percent of the minimum wage.
Besides meal vouchers, there are several other types of benefits: gift vouchers, gift cards, childcare vouchers and social vouchers. Approximately 10 percent of the market is represented by gift vouchers and cards. Edenred is the only voucher issuer that also offers a prepaid gift card, as a digitalized alternative to gift vouchers on paper.
There is still room for growth, as more and more companies understand the benefits of granting meal vouchers as well as other types of vouchers to their employees. They increase employees' motivation, loyalty and purchasing power at a minimal cost, thanks to the fiscal facilities.
As for 2015, we feel that the market is slightly growing and we hope we will gain a significant part of it.
Where will this growth be coming from?
We expect the market to resume growth, both for meal vouchers and for gift vouchers and cards. More and more companies are coming out of "survival mode" and are seeking ways to enhance employee motivation, while keeping costs under control. Employee benefits such as meal and gift vouchers are a great solution because they answer both needs, so we expect more and companies to incorporate vouchers in their HR policies, especially SMEs.
The increase in the number of employees in the overall economy is also a growth driver for employee benefits, and 2015 brings a more optimistic outlook in most industries, in terms of hiring, new investments and new jobs. Companies are beginning, for the first time since the economic crisis, to offer their employees more benefits, and meal vouchers are currently the most efficient and the most commonly used benefit in Romania, followed by gift vouchers and cards.
What do you expect to be the most important developments for this industry this year?
In 2015, one of the main developments will be an increase in the volume of gift vouchers and gift cards, because more and more companies are planning to resume the awarding of special bonuses for Easter and Christmas. The economy is growing, and so employers are reevaluating their benefit policies – the lessons learned in the aftermath of the economic crisis have not been lost and firms are now seeking financially efficient solutions. Gift vouchers are ideally placed to answer this need, because they have very advantageous tax exemptions.
Gift cards, which are currently only in Edenred's product portfolio, are even more appealing, as they have the most significant tax exemption framework (being exempt also from the tax on employees' salary, of 16 percent, within a RON 150 limit).
However, the most important event in the vouchers industry in Romania in 2015 will be the long-awaited introduction of electronic meal vouchers, namely meal cards. The law enabling the issuing of meal cards was passed in 2013, and its bylaws, without which no law can be applied, were approved by the government this January. Edenred has already announced the launch of the first meal card in Romania, under the same brand as its paper vouchers: Ticket Restaurant. As soon as we receive the authorization based on the law which requires issuers to comply with specific criteria, we will provide this product.
Edenred will provide meal cards as well as meal vouchers (the classic paper format), and employers will be able to order both options.
And talking about the legal framework, in other countries there are other types of benefits which enable companies to increase the purchasing power of their employees: tickets or cards for sports and culture, tickets for  childcare (up to 10-12 years old compared to 2 years old in Romania) and tickets for domestic services (household, care, babysitting, DIY, etc.) We hope that in the near future, we will have the legislative framework to align to these European trends.
What is the most popular type of extra-salary benefit among Romanian employers at the moment and why?
The most popular employee benefit is definitely, and by far, the meal voucher. As I was saying, over 2 million employees, which works out as almost half of the employed population, currently use meal vouchers.
The reason for this is simple – meal vouchers are very efficient for companies from the financial perspective, as they are exempt from  taxes on salary and, at the same time, extremely useful to and popular with employees. In a country where one out of five employees is paid the minimum wage and 40 percent of a family's income is spent on food, meal vouchers are extremely important. For many employees, meal vouchers are the only means to afford sufficient food.
Currently, however, the value of a meal voucher has fallen well below the cost of a lunch, especially in urban areas. Its current value is only RON 9.35 per day, and it has not been updated for the past two years.
The purchasing power of a meal voucher in Romania is very low compared to other European countries – in Romania, one can buy two bottles of milk with a meal voucher, while in France you can buy 10 bottles, in Spain 12, and in the Czech Republic 7.
What is the most popular bonus for Easter among Romanian employers?
This year marks a revival of special occasion bonuses in most companies and in most industries. Thanks to their fiscal benefits, and to the ease of implementation, gift vouchers are one of the most popular ways for firms to grant their employees Easter bonuses.
Gift vouchers of up to RON 150 per beneficiary at Easter are exempt from social contributions and are only subject to the 16 percent income tax.
This year, we're seeing a jump in popularity for gift cards, the more modern and elegant alternative to paper gift vouchers. Edenred is the only voucher issuer that has a card already implemented in Romania – the Compliments gift card. Gift cards are preferred by companies active in the services industry, whose employees' payment habits support this choice.
How many clients do you have in Romania and what is your market share?
We serve over 30,000 client companies and organizations, and we are proud that half of the ten largest employers in Romania are among our clients. Our local market share is 38 percent.
CV – Vianney du Parc
He was appointed general manager of Edenred Romania this March, replacing Pierre Gagnoud who took over the management of Edenred Spain after a two-year mandate in Romania.
Du Parc is a graduate of the Paris Business School and has a post-graduate qualification in finance. He joined the Accor Controlling department in 2005 after having previously worked for Deloitte as financial auditor. In 2008 he was appointed financial director of Accor Hotels Eastern Europe and two years later became the financial controller for Central Europe and Scandinavia at Edenred.
Before coming to Romania Du Parc had worked as managing director of Edenred Poland since 2011.
According to company data, Edenred is the market leader, both in Romania and internationally, in the field of prepaid vouchers and cards for employee benefits, expense management and public social programs.