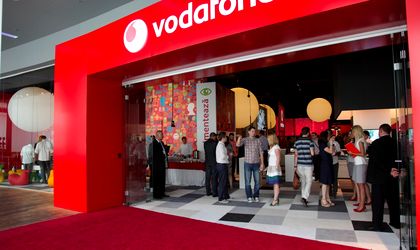 Telecom operator Vodafone Romania has announced the start of its store franchise program, for entrepreneurs considering entering the mobile communications business.
The company currently has a total of 610 branches, of which 200 are Vodafone shops and 410 belong to its exclusive dealers. Currently, there are seven franchise stores and another six will be opened by the end of the year.
"We have franchises in Iasi, Cluj and Bucharest. The first franchise to open in Bucharest is located in Progresului Square. By the end of December, we will open another franchise in Bucharest in Veteranilor Square. We would like to keep the same number of branches that we have now, about 600, but fewer of them will be Vodafone stores, as we want some of them to become franchises," Alexandru Baloi, director of indirect sales at Vodafone Romania, told the media.
The company will continue to run the larger outlets, which cover 100 sqm and have up to 20 employees. The franchise system mainly involves smaller branches of up to 35 sqm.
"We propose the locations and look for franchisees. They can come with their own space as well, but we invest in it so that the look and feel of
the store respects standards," said Baloi.
Franchisees will have access to the known-how, applications, systems, image standards and staff training programs offered by Vodafone. The operator will also cover the costs of furnishing the shop.
In turn, franchisees must pay a tax to have access to the system, and cover the product stock and the employees' salaries.
Vodafone will be supplementing investments in Romania over 2014-2016 by an additional GBP 45 million (EUR 54 million), which will mainly be used for the development of the 4G network, announced Inaki Berroeta, CEO of Vodafone Romania.
This added investment comes as a result of Vodafone's sale of its participation in Verizon Wireless. At the beginning of September, the operator agreed to sell its 45 percent stake in Verizon Wireless to Verizon Communications for USD 130 billion in cash and stock, in what the US media labeled one of the most expensive acquisition deals ever. Vodafone's main strategic directions in Romania include investments into the development of the 4G network, the store network and the fiber optic backbone, according to Berroeta. Vodafone's annual investment budget in Romania stands at around EUR 100 million, but the EUR 54 million will represent new capital inflow which is supplementary to the annual budget announced by the operator. The company has also revamped its outlet in Baneasa Shopping City, which now has a new visual identity in accordance with the design trends adopted by the company. "The Vodafone store in Baneasa is in the top three for smartphone sales," said Andrea Rossini, director of the consumer business unit at Vodafone Romania.
On September 30, Vodafone Romania had nearly 8.3 million customers.
Otilia Haraga