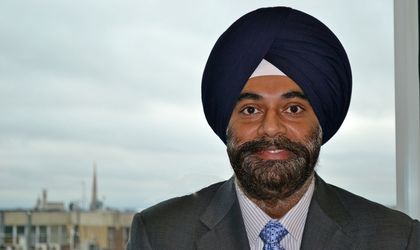 Telecom operator Vodafone Romania has opened a new Shared Services (VSS) Center in Romania, a global services center which will cater for Vodafone operations in five countries, as well as for the Vodafone Group. The total investment into the center was approximately GBP 5 million (EUR 6.25 million).
The opening of the center was attended by Prime- Minister Victor Ponta, the Minister for Information Society Razvan Cotovelea and Ravinder Takkar (in picture), CEO Vodafone Romania, for the first time in front of the Romanian media.
During the event, PM Ponta announced the Romanian state has granted state financing to Vodafone Romania, an information confirmed by Vodafone officials, who said that the aid was allocated for the shared services center. According to Ziarul Financiar, the aid consisted in nearly EUR 8.2 million.
However, Vodafone officials said state aid was not a precondition for opening the center in Romania, which was already functional when the state aid submission was approved.
"Romania has been selected for the great language capability and the talent pool availability, which will ensure the delivery of great quality services at a competitive cost. We now have an ambitious growth plan to reach over 2,000 roles in the following 3 years," said Steven McCrystal, group director, shared services, also present at the opening.
The new center is located in the Avrig Business Center and already has 100 employees, having started its activity in May.
By the end of the year, the number of employees in the center will reach 750. Over the next three years, the center will have over 2,000 employees.
For the customer care area, the new VSS Center provides support for the invoice and payment inquiries, account administration and data troubleshooting to Vodafone customers from UK, Germany, Italy, Spain and Ireland. The services are supplied via phone, online chat, as well as back-office.
On the IT segment, VSS Romania provides Help Desk operations, first and second level applications support, as well as database administration, for the internal needs of the five operations as well as for Vodafone Group (HQ).
This is the second Vodafone center opened in Bucharest after the Danubius Networks Operations Center (NOC), which was inaugurated last year, and manages network incidents for nine Vodafone operations: Vodafone Netherlands, Germany, the Czech Republic, Hungary, Romania, Greece, Albania, Malta and Italy, which sum up 90 million users.
As part of NOC, Vodafone also opened a service operations center dedicated to monitoring M2M services provided for Vodafone global customers.
Vodafone also has services in other cities such as Brasov and Ploiesti, but those deliver services for internal customers.
 Otilia Haraga