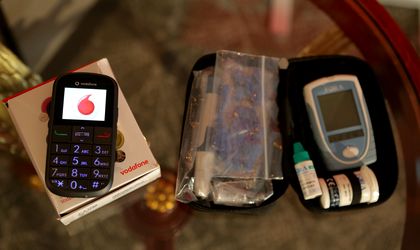 With an investment of EUR 500,000, the Vodafone Foundation launched today the program Mobile for Good which uses mobile technologies to come to the aid of three categories of beneficiaries: diabetes patients, elderly people who need home care and athletes with intellectual disabilities.
Three pilot projects, developed in partnership with the associations React, Caritas Alba-Iulia and the Special Olympics Foundation, will unfold for an entire year and will have 750 beneficiaries in total.
The most extensive of these pilot projects, developed in partnership with React Association, targets around 500 diabetes patients. Selected beneficiaries will receive a Controlin kit free of charge, which will help them monitor daily their blood sugar level. The kit comprises a glucometer with incorporated Bluetooth, consumables for an entire year and access to a mobile application, which can be downloaded free of charge.
Starting today, people diagnosed with diabetes who wish to get into the program should fill in the form available on the website www.controlin.ro. The selection will be made by a committee that includes doctors, nutritionists and representatives from the React Association.
The second pilot, developed in partnership with Caritas Alba-Iulia Association, benefits elderly people between 60 and 90 years old from Alba, Covasna, Harghita, Hunedoara, and Mures, who need home care. They will receive 150 Vodafone 155 handsets which feature a panick button which can be used in emergency situations, while another 150 Vodafone Smart II phones will go to Caritas assistants who can receive these alerts.
Last but not least, 100 Special Olympics athletes with disabilities will have access to a mobile phone application which monitors their health during sports competitions.
Picture courtesy of Vodafone Foundation.
Otilia Haraga