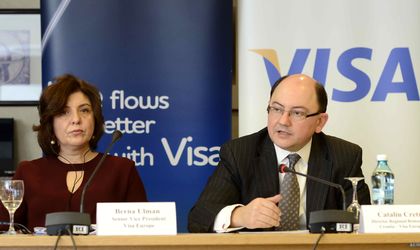 Visa Europe, the payments technology business, said on Monday that card payments in Romanian retailers have outstripped seven fold cash withdrawals, with direct payments growing by 20.7 percent last year.
The number of transactions with Visa cards at retailers, including POS and online, accounted for 45 percent of total Visa card transactions in Romania.
"By year end, we are getting closer to the moment in which one in two transactions will be on a Visa card," said Catalin Cretu, regional director Visa Europe, Romania and Croatia.
Cretu said that close to EUR 20 billion account for payments and cash withdrawals on Visa, while the total amount of consumption payments in Romania reaches EUR 90 billion.
Last year, Visa has seen a 20.7 percent gain in debit, its core business, with the amounts spent on retailers growing by 16.4 percent. On credit, it gained 20.5 percent and the sums spend on retailers rose 13.4 percent.
The average transaction on retailers fell 3.7 percent to EUR 35, underscoring the fact that Romanians use their cards more often to make smaller payments, according to Visa representatives.
The company has also registered a 13.9 percent increase on the business card segment, used primarily by employees of SMEs, in which total expenditure rose 17.2 percent to EUR 4.2 billion.
According to Cretu, some 620,000 daily Visa card transactions have been registered last year daily, which is an increase of 60,000 daily transactions year-on-year. Meanwhile, its portfolio remained stable at 7.15 million cards.
"We have registered a significant progress in promoting card payments in the public sector through our traditional campaign regarding the payment of taxes by card, and, in addition, we are currently supporting the usage of card payments for improving the financial situation of SMEs on the back of a difficult economic environment," added Cretu.
The Visa director said the promotion of contactless cards is among the future development targets in Romania.
"We are little behind Europe on contactless, as there are close to 200,000 contactless cards and devices. In the first quarter, we are sure we will have six new issues and six more retailers for contactless," said Cretu.
Visa Europe invested EUR 300 mln in payment technology
Berna Ulman, senior vice-president Visa Europe, commented the company has delivered "strong growth" last year, reporting revenues over EUR 1 billion for a third year in a row and a net pre-tax profit  of EUR 264 million.
"We have invested more than EUR 300 million in driving new technology business," said Ulman.
She added that total card-holder expenditure amounted to EUR 2 trillion, out of which EUR 1.4 trillion was made through POS.
Ulman reckons contactless has reached tipping point in Europe, expecting contactless cards to reach 100 million units that can be used on over 1.8 million terminals.
Ovidiu Posirca