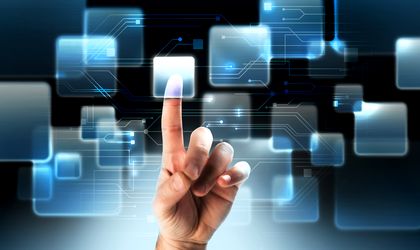 In Romania, server virtualization has the highest degree of adoption among virtualization forms, with an uptake of about 80 percent in the private sector. Desktop virtualization is playing catch up, but companies are still intimidated by the higher upfront costs that it involves.
 By Otilia Haraga
"From a pragmatic viewpoint, we can no longer afford to create integrated solutions without virtualization. It is no longer feasible to provide a hundred services using a hundred physical servers that could fill up several technological boxes and in this way fill up entire technical rooms," Frontal Communication experts Cornel Popescu, cloud computing technology consultant, and Sebastian Banica, executive director of the company, tell BR.
Even in the unlikely scenario in which the company in question can afford to allocate the resources necessary to purchase all the required equipment, the machines would still be used at under 20 percent of their capacity on average, they point out.
Furthermore, virtualization provides the option of easy migration. Virtual machines are portable and can be moved by copying files, unlike physical devices with which the process is more complicated, they explain.
The traditional model requires the acquisition of physical equipment for every computing unit. By contrast, virtualization simplifies physical IT infrastructure and allows centralized management and enhanced flexibility in allocating the company's operational resources.
Virtual servers are excellent for backup and data recovery in the event of disasters, enabling the continuity of activity.
"Moreover, virtual environments are ideal for testing new operating systems, applications, services and configurations before they are introduced in the fabrication process," Tiberiu Beșleaga, ISS& BCS business unit manager at HP Romania, tells BR.
He lists the main elements necessary in a virtualized environment: servers and storage units, network and connectivity equipment, specialized software, management software and applications.
Virtualization separates the software component from the hardware component while virtual machines behave exactly like the physical machinery running the software such as operating system and applications. Between the virtual machines and hardware, virtualization places an additional layer which is the hypervisor or the virtualization platform. Such a solution is called "bare-metal virtualization", say the Frontal Communication pundits.
"In essence, a company can consider the virtualization of almost any IT resources – servers, desktop computers, storage or network infrastructure," Mihai Mincu, data center, virtualization & cloud product specialist at Cisco Systems Romania, tells BR.
Pundits interviewed by Business Review described two main types of virtualization: data center virtualization (server virtualization) and desktop infrastructure virtualization.
"For a company with a large number of task workers who are all using a traditional desktop environment, desktop virtualization could be a good first step. For a company with a distributed workforce, which need to access critical company data constantly, data center virtualization might be a good approach," Mincu says.
Of these, server virtualization is "the best-known solution that has reached full technological maturity," Bogdan Suchar, IT&C marketing coordinator at Quartz Matrix, tells BR.
In March 2012, Cisco ran a non-representative survey to determine virtualization trends in Romania. Mincu says that out of more than 700 respondents, 76 percent said they had a virtualization project going on in their company, and almost half of these projects had to do with server virtualization.
Furthermore, 61 percent of respondents said better utilization of resources was the main benefit they get from virtualization while 52 percent mentioned simplified management and reduction of the total cost of ownership (TCO) as key benefits.
"When talking about the adoption of virtualization in Romania, we should take into consideration the private sector where the degree of adoption is 80 percent, and the public sector where red tape and the lack of proper decision making take the adoption degree down to 30-40 percent," say the Frontal Communication experts. "We believe that in Romania the virtualization of servers has already taken place in 70-80 percent of cases. Those who have not virtualized probably never will."
The reason behind the popularity of server virtualization is "the consolidation and reduction of costs."
"Taking into account the extremely short time span for recovering investments, we can say that server virtualization projects have been a hot topic during the recession period on the table of decision makers," says the Frontal Communication representatives.
Desktop virtualization is catching up, but companies are still wary, due to cost-sensitive issues.
"The virtual desktop is a step that will allow companies total flexibility, while preserving the centralized model without compromising security. However, there is reticence, and this comes from relatively high initial investments," say the Frontal Communication team. These upfront investments can be recovered over three to five years, but "given the pressure on budgets, many organizations have not managed to allocate the necessary sums for desktop virtualization projects," they add.
"In 2012 we have seen exponential growth in interest in desktop virtualization in the Romanian market across all industry verticals. The most innovative customers have already started implementing desktop virtualization into production. The majority of companies are, however, still in the research, test or pilot phases, trying to figure out how the solution fits them best, and where is the best place to start implementing it, so we expect to see a significant increase of customer adoption in production environments in 2013," says Mincu.
Moreover, the technology is "less stable, and light terminals still do not have the desired cost efficiency. It can be a solution for call centers or mobile users who want access to custom-made complex applications (ERP, CRM, sales management)," says Suchar.
Key reasons for moving towards desktop virtualization include simplifying deployment for better results in the production environment, quicker return-on-investment from the faster completion of the project, a speed of deployment which solves the underlying problems more quickly, the expertise of the service provider which can be leveraged on an "as needed" basis, known and documented reference architectures that are highly stable and have known attributes as well as the proven documentation and processes that the service provider brings to the project, Serban Zirnovan, storage business development manager for Central Emerging Europe at Dell, tells BR.
"By 2014, the average number of connected devices per task worker will reach 2.8, which represents 22 percent growth from an average of 2.3 in 2012. On average, mobility initiatives will consume 23 percent of IT budgets in 2014, compared to 18 percent in 2012," says Mincu.
This is one of the reasons why bring-your-own-device (BYOD) will become an important issue in the future.
"BYOD is a hot topic because it brings a competitive edge to whoever can get to that point. Whoever succeeds in allowing users to access applications irrespective of the terminal they use, whether it is a computer, a tablet or a smartphone, and does not impose a certain technology, can approach the entire mass of clients," say Frontal Communications pundits.
In Romania, the degree of implementation of BYOD is "very low" and "limited to experiments," says Suchar.
But the potential is real. "Many of our customers who have or are considering implementing desktop virtualization are also considering the option of moving to a BYOD solution," says Mincu. However, BYOD can also be implemented without desktop virtualization, as a solution that enhances user experience and productivity while providing secure access to company resources, he says.
 The steps to a successful virtualization
The first step to take for a company that is considering virtualization is to assess the current resources to see what equipment exists, what is its current state, what lifespan cycle it is in, at what capacity it is used and what it is used for.
The company should also evaluate its operational needs and what more resources it requires to fulfill them. Thirdly, taking into account these aspects, it must evaluate its virtualization needs. After these considerations, a plan should be outlined, in order to implement the virtual machines on the existing equipment, says Besleaga.
The evaluation process can be carried out by in-house IT experts, an external consultant or a team made up of both company representatives and external experts, says Besleaga.
A carefully devised plan will spare companies a lot of potential headaches, not to mention expenses with their IT infrastructure and security.
"Ideally, it should start with an accurate evaluation of existing costs, a three- to five-year cost projection and a long-term investment simulation. They should definitely go through a 'proof of concept' exercise, which would emphasize the degree of integration of the new solutions with the company's business environment," says Zirnovan. The decision should take into account the access type of the selected solution, whether it is private, hybrid, or public.
"While providing significant improvements, virtualization also adds management complexity at a time when data center teams are already understaffed and overburdened, resulting in increased operational costs (OPEX) that tend to grow as the virtualization solution is scaled up," says Mincu.
"A careful projection of the solution shouldn't contain such hidden costs. It is recurring costs that are often not taken into account in the initial deployment, but this certainly doesn't mean they are not predictable. They are at least as predictable as in the case of a traditional desktop solution," adds Zirnovan.
Which brings one to the question about the TCO of such solutions, and exactly how much can be saved by taking up virtualization.
"From the TCO perspective, the main ways for organizations to reduce data center costs via virtualization are through increased administrative efficiencies (reducing IT labor costs), by decreased power, heating and cooling requirements, by reduced hardware and cabling overhead and decreased server hardware costs and physical footprint," says Mincu.
In the traditional scenario, which includes a physical machine, operating system and application, the TCO can become very high due to the expenses incurred by the consumption of electricity and cooling equipment, with the required space the equipment occupies and the maintenance costs, Besleaga explains.
On the other hand, when adopting virtualization solutions, a correct evaluation of the TCO should cover at least three years, according to Oracle experts.
"From our experience, we can estimate a cost reduction of 50 percent," say the Frontal Communication experts.
One thing is for sure: when choosing virtualization solutions, companies should take into account that apart from the initial acquisition cost, there are also ongoing costs to be taken into account which involve support, to solve any technical incidents that may affect the virtualization platform. "What needs to be clear is that the option of updating and running the latest software versions of the virtualization platforms is only allowed by producers in the context of acquiring the support or the subscription. These represent costs that must be taken into account, which can be ongoing," say the Frontal Communication pair.