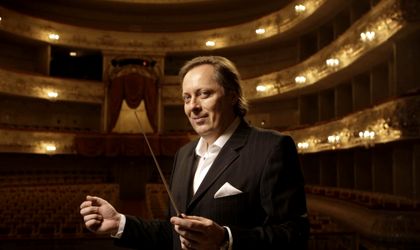 Beethoven and Rachmaninoff will be heard once again at the Romanian Radio Hall, this time under the wand of Peter Feranec, who is musical director and chief conductor of the Mihailovski Theatre in Sankt Petersburg. He has performed in prestigious world venues such as Bolshoi Theatre, Zurich Opera, Frankfurt Opera, Prague National Opera, Munich Philharmonic, Teatro Colon Buenos Aires etc.
The event will feature the young violinist Ioana Cristina Goicea, who was awarded in 2013, at only 20 years old, with the prestigious First Prize at the Johannes Brahms International Contest (Pörtschach, Austria). As a consequence of the competition organized in February 2013 by the Deutsche Stiftung Musikleben Foundation from Hamburg, the young musician won the right to play the Giambattista Guadagnini violin, which was designed in 1761 in Parma.
ROMANIAN RADIO NATIONAL ORCHESTRA
Conducted by  PETER FERANEC
Soloist:  IOANA CRISTINA GOICEA – violin
L. van Beethoven:  Violin Concerto in D major, Op. 61
S. Rachmaninoff:   Symphony No. 2 in E minor, Op. 27
The event takes place on March 13, from 19.00, at the Radio Hall. The event is broadcast live by Radio Romania Cultural and Radio Romania Musical stations and online on these radio stations' websites.
Tickets are available on www.bilete.ro, from the offices of the Romanian Postal Company, the Inmedio shops Bilete.ro, the Germanos retail chain and the Radio Hall box office.
Photo source: Peter Feranec official website
Tatiana Lazar