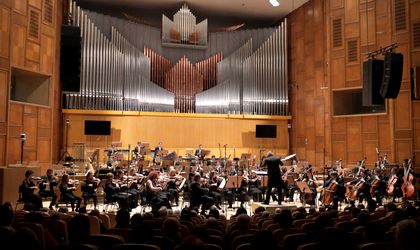 Janko Zsolt, permanent conductor at the Hungarian Opera in Cluj- Napoca, conductor of the Oradea Philharmonic and assistant director of the Budapest Festival Orchestra, will conduct the concert of the Romanian Radio Chamber Orchestra at the Romanian Radio Hall.
You will listen to two works by Felix Mendelssohn, of which the second one – Symphony No. 1 – was composed at his early age of 15. The orchestra will also perform the Concerto for oboe, violin and orchestra by Bach with the participation of violinist Cristina Anghelescu and oboist Adrian Petrescu.
ROMANIAN RADIO CHAMBER ORCHESTRA
Conducted by JANKO ZSOLT
Soloists: CRISTINA ANGHELESCU – violin
                 ADRIAN PETRESCU – oboe
F. Mendelssohn: The Hebrides (overture),op. 32
J. S. Bach: Concerto for oboe, violin and orchestra, BWV 1060
F. Mendelssohn: Symphony No. 1 in C minor, Op. 11
The event takes place on March 11, from 19.00, at the Radio Hall. The event is broadcast live by Radio Romania Cultural and Radio Romania Musical stations and online on these radio stations' websites.
Tickets are available on www.bilete.ro, from the offices of the Romanian Postal Company, the Inmedio shops Bilete.ro, the Germanos retail chain and the Radio Hall box office.
Tatiana Lazar