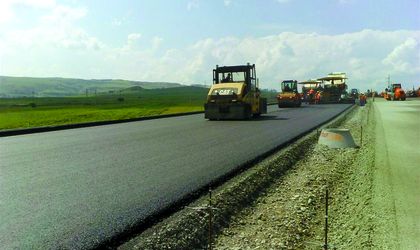 A consortium made up of three companies – Vinci (France) – Strabag (Austria) – Aktor (Greece) –  has won the bid for the construction in concession of the 58km highway which will connect Comarnic and Brasov in center Romania.
Vinci-Strabag- Aktor and another consortium comprising Italian companies Impregilo and Salini were the only two final bidders for the project. China Communications Construction and Spedition UMB – Tehnostrade which is controlled by Romanian businessman Dorinel Umbrarescu had also submitted initial offers.
The announcement about the winning consortium was made today by representatives of the Romanian National Company of Motorways and National Roads (CNADNR) who refused to comment on the price. Construction will start next year, said today PM Victor Ponta during the opening event of a segment of the Sibiu- Orastie- highway.
The construction of the 58km highway connecting Comarnic and Brasov is estimated to cost between EUR 1.2 billion and EUR 1.3 billion and should be completed in 2016 or 2017, Dan Sova, the minister of grand infrastructure projects, said during a recent ProTV interview. The highway is meant to ease traffic on the National Road 1 (DN1) which links capital Bucharest to the northwestern part of the country and crosses the popular Prahova Valley where several moutain resorts are located.
This is the second time Vinci and Aktor win the bid for the Comarnic-Brasov highway. The first time was in 2009 but at that time the two companies and the authorities did not  agree on the final form of the contract.
Simona Bazavan