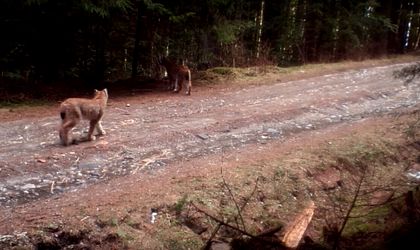 A pack of wolves and three lynx were caught on camera in Romanian forests that are included in an EU-backed conservation program in the Carpathian Mountains.
For instance, a lynx was recorded eating its prey, a female red deer, according to a video posted on the website of Wolflife, the wildlife conservation program that is financed by the European Commission.
"Packs of wolves frequently share the same territory with families of lynx, with bears that are just recovering from hibernation looking for snowless mountain tops. In this ecosystem, the prey-predator relationship works in a natural way, allowing us to capture spectacular images of a lynx that is eating a freshly killed prey," according to the description of the videos.
The Wolflife project is carried out by the Agency for Environment Protection in Vrancea, in partnership with the Association for the Protection of Biological Diversity, the agencies for Environment Protection from Harghita and Covasna.
The conservation project covers 18 sites from the Natura 2000 network, spanning six counties in central and eastern Romania.
In the CEE, there were 2,300 to 2,400 lynx as of 2012, according to data by the Large Carnivore Initiative for Europe. The region covers Romania, Slovakia, Poland, Ukraine, Czech Republic, Hungary, Serbia and Bulgaria. The biggest threat for the lynx, part of the cat family, is poaching.
According to the Wolflife project, the population of wolves in Romania stands at around 2,000 – 2,700.
The lynx and the wolf are not included in the quota of animals that can be hunted in the season 2015-2016, which is established by the Ministry of Environment.
Video source: wolflife.eu
Ovidiu Posirca