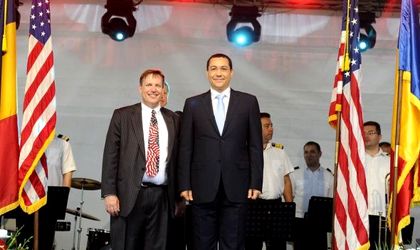 Speaking at the US embassy on Thursday at a celebration of the Independence Day, Prime Minister Victor Ponta said that the partnership with the United States of America was always very important to Romania, and he is glad to see that now it is important for the US, too.
Ponta declared that Romanian military in Afghanistan 'have paid a high toll to prove Romania a trustworthy partner,' and Romania has 'brave soldiers ready to serve their country.'
He thanked the US for the support to the Republic of Moldova as it strives for democracy and European integration.
'I hereby reassure the United States that Romania will be a honest, dedicated partner for the Republic of Moldova, for Ukraine, for Georgia, and for all the states who chose to follow the pro-European and democracy path,' the PM added.
Romanian parliament ratifies EU-Moldova association agreement
Duane Butcher, Charge d'affaires for the US Embassy in Romania, spoke on Thursday at the Independence Day reception organised by the American diplomatic mission. Butcher praised the country's striking beauty and highlighted the US's commitment to seeing the country go.
"Above all, the United States wants Romania to succeed. We want Romania to thrive, for its economy to flourish, and for trade and investment to grow".