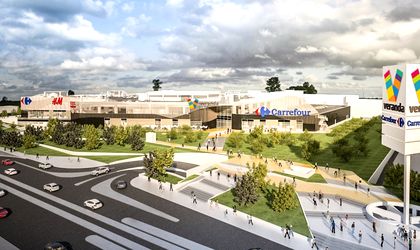 Veranda Mall, a commercial complex in Bucharest's Obor area, has reached a 70 percent occupancy rate before its scheduled opening in the last quarter of the year, developer Prodplast Imobiliare announces.
Following an investment of some EUR 60 million, the project will host over 100 stores, a hypermarket and a food court over its 30,000 sqm leasable area. It will include a green area of some 15,000 sqm and a parking area of 1,000 spots.
"We are already in advanced discussions with other tenants for an additional percentage of 10 percent of the total rentable surface and in the coming months we expect to occupy all areas," stated Andrei Pogonaru, member of the board of Prodplast Imobiliare.
Renting the largest areas in the shopping center will be Carrefour (10,000 sqm) and H&M (over 2,000 sqm). Other brands will include CCC, Deichmann, Pimkie, Pepco, Yves Rocher, Optiblu, Diverta and Sensiblu, while the food court will host Pizza Coloseum, Salad Box, K-Grill, Rustic and others.
The shopping center will be organized on two floors, but the modular structure will allow expansion in the future. Currently the building foundation has been completed and works for the resistance structure follow.
Natalia Martian