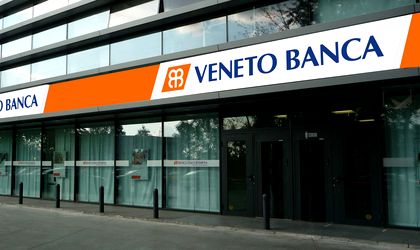 Italy's Veneto Banca has concluded the merger by absorption of Banca Italo Romena on last week and will start operating under the new brand, aiming to expand its lending activity for Romanian and Italian companies this year.
The Bucharest branch of Veneto Banca will maintain the same operational structure and will offer new products and services that are already available for its customers in Italy. According to bank officials, the merger costs related to the rebranding and the overhaul of the IT system were "modest" compared to the benefits for the business.
The local branch will be headed by Alberto Morini starting June after Paolo Mariani completed his mandate and will work as head of the private banking division of Veneto Banca. Morini has previously worked as director of the corporate department of Veneto Banca in Italy.
Mariani said the lender included in the budget a growth of EUR 70 million in loans and deposits. Last year, its loan book shrank by 6.9 percent to EUR 882 million, while deposits gained 6.3 percent to EUR 660.5 million, according to Mediafax newswire.
"However, loans are not growing at this moment in Romania, the market is still closed, refinancing is important at this moment, but for now we do not have new projects for refinancing," said Mariani in a press conference. He said that the bank sees growth potential this year in energy, agriculture and manufacturing sectors.
Mariani said that the bank has been restructured from "top to bottom" in the past two years and the employees have undergone additional training. He said that no jobs have been slashed in the process.
The lender's losses have amounted last year to EUR 11.7 million as it provisioned EUR 25 million for net non-performing loans (NPL) of EUR 127.5 million. In the year to date the gross stock of NPLs reached EUR 15 million and the bank has set aside EUR 13 million for provisions.
Mariani commented that Veneto Banca considers Romania to be a key market, also due to the fact that over 30,000 companies with Italian capital are active locally. The bank also has branches in the Republic of Moldova, Croatia and Albania.
"We are at a moment when the tendency of the banks is to leave rather than enter (e.n. Romania), while we want to invest here" said Mariani.
Veneto Banca operates in Romania through a network of 22 units, out of which five are located in Bucharest.
Ovidiu Posirca