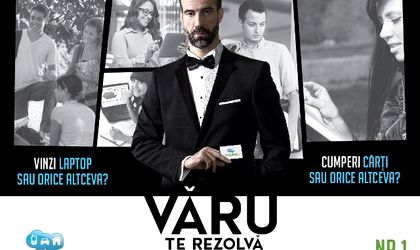 According to SATI, Tocmai.ro received over 326 million views in November and was accessed by 3.773.495 unique visitors, making it one of the most popular websites in Romania and certainly the biggest free classified ads site. The number of views in December had a small drop of about 20 million. The number of classified ads posted increased by 70% compared to 2012.
By comparison, one of tocmai.ro's main competitors, Mercador, registered 228 million views in December and was accessed by 2.923.624 unique visitors.
Auto sales represented the most popular category on the website, accounting for 30% of the total number of ads. Second place was awarded to Real Estate with 18% of ads and third spot went to "Electronics and IT" with 16% of total ads on the site.
Most registered users on tocmai.ro come from Bucharest, Cluj, Iasi, Brasov and Constanta.
tocmai.ro's surging popularity can be attributed at least in part to its very aggressive marketing campaign. At the center of it was Varu', a charming enough fellow that helps out a series of buyers and sellers to close their deals easily and successfully.
The national advertising campaign designed by Lowe&Partners  used different media channels, but with a special emphasis on the online medium. One of the key concepts for this campaign on all levels was real time marketing,
Differing definitions of real-time marketing abound, but essentially it means "just-in-time" or "on-the-fly" marketing that leverages the most appropriate communications to deliver a personalized customer experience, based on time, place, and the most recent understanding of individual customer intent.
"The creative challenge was to develop a communication platform meant to consolidate the leader position for tocmai.ro. We used personification and starting from the basic concept of 'I fix, therefore I exist' we created Varu'. We were inspired by the Tarantino visual style and we just added some contrasting local flavor. The name of Varu' was assigned to contrast with the character's overall appearance – we wanted to subvert what the general opinion of a 'Fix-it' kind of guy looks like. Tocmai.ro is a safe solution, a true specialist. As for validating the success of a brand-mascot, there is no greater evidence than general adoption. And what is happening now with Varu is the supreme form of recognition", Manuela Gogu, creative director for Lowe&Partners, for iqads.ro.
GollinHarris handled the PR Component, which acted out as a campaign within a campaign. By using the celebrity of Liviu Varciu, the PR agency had Varu' help the celebrity out of a tricky situation in which he was going to be evicted. Varu' promised to fix everything in 48 hours, which he did, in a series of 4 video spots that were updated on Youtube. Liviu Varciu offered constant updates on the development of the situation on his Facebook, and also went to talk about his eviction problems on different news shows.
Lastly, Initiative handled the media strategy, by developing and optimizing an effective mix of TV, Radio, Outdoor and online.