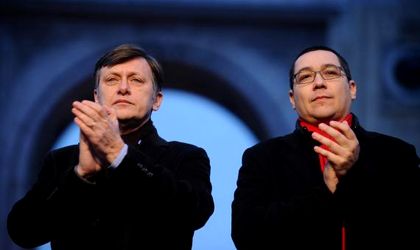 Romania's National Liberal Party (PNL) abandoned the country's ruling coalition Tuesday following weeks of wrangling over cabinet positions. The PNL, the smaller member in Ponta's two-party coalition, decided to pull its ministers from the cabinet, with observers identifying fighting for positioning ahead of presidential elections due in November as the actual cause for the split. Liberal leader, Crin Antonescu, said on Tuesday night that the "decision wasn't taken lightly".
Ponta's Social Democrats (PSD) can still govern without the PNL. But with a reduced majority in parliament, Ponta has already started seeking support among smaller parties, such as UNPR for instance which alongside PC and PSD forms the USD coalition.
The PNL has decided via internal vote to call it quits, and its members of the Government will submit their resignations by Wednesday, February 26, at noon. State secretaries and chiefs of agencies who are part of PNL will also resign, and the liberal party is asking for Victor Ponta's resignation. If the PM doesn't resign, the liberal party will remain in opposition.
According to Antonescu, Ponta should resign based on the fact that he was invested as the leader of a USL cabinet that was voted into office by Romanians, based on a political programe designed in collaboration with the PNL.
"Ponta's natural reaction, since half of the members of the Government were liberals, a normal reaction in a working democracy would be to resign. There would be consultations at Cotroceni, but this is not our problem, and then, via parliamentary criteria, Ponta would manage to obtain a new mandate", Antonescu explained.
The liberal leader also believes that the PM "will probably not resign".
"Then PNL will remain in the Oposition (…). Romania's citizens know that we are ready to participate in any government formula, we are not running away from our responsibilities", Antonescu added.
Not everybody was on board with PNL leaving the coalition. Calin Popescu Tariceanu, former prime-minister and PNL leader, voted against it, calling the decision "brash".
Liberal ministers that were currently active:
Minister of Health – Eugen Nicolaescu
Minister of Labour – Mariana Campeanu
Minister of Transport – Ramona Manescu
Minister of Culture – Daniel Constantin Barbu
Delegate Minister for Parliament Contact – Mihai Alexandru Voicu
Delegate Minister for Romanian Everywhere – Constantin David
Delegate Minister for  Waters, Forestry and Fisheries – Lucia Varga