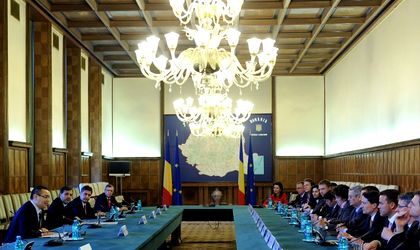 The American-Romanian Business Council (AMRO) met on Thursday with the Romanian President Traian Basescu and PM Victor Ponta to assess the domestic investment opportunities, as part of its foundational mission to Romania.
The AMRO was set up in January by 12 US multinational companies including Cargill, Chevron and Exxon Mobil. It is led by Eric Stewart, partner at the independent law firm Williams and Jensen, which focuses primarily on lobbying.
"The companies wanted to be better organized. We recognized there are tremendous amount of opportunities for doing more business in Romania, so it made sense for us to come together as a business community and really focus just on Romania," said Eric Stewart, AMRO president, during the meeting with PM Ponta. He was joined by representatives of eight AMRO members.
"There are a lot of potential opportunities in agriculture, energy, manufacturing, financial services, healthcare and defense," added Stewart.
President Basescu acknowledged during the meeting with AMRO that the current political and military relations between the two countries are excellent. Romania and the US signed last year in Washington the Strategic Partnership for the 21st century, which focuses on defense, energy, education and investments. Moreover, the US will start next year to deploy components of a missile shield in southern Romania, Deveselu.
Officials stressed the need to increase bilateral economical relationships. The value of American investments in Romania hovers around USD 970 million, making it the twelfth largest foreign investor in the country.
"The most challenging is the infrastructure. This can be presented as an opportunity and a challenge, which needs to be addressed," said Steward today, during the Bucharest Forum. The forum was jointly organized by the Aspen Institute in Romania, AmCham, FIC and AOAR.
"We would like to see an articulated clear vision, where the country wants to go," said the AMRO president.
Stewart said Romania could become an energy hub if it pursues a strategy which includes conventional sources, renewable, shale gas and the energy transit potential.
The energy sector is of particular interest for US oil & gas firms ExxonMobil and Chevron.
ExxonMobil is currently doing exploration works offshore Romania, in partnership with OMV Petrom. Meanwhile, Chevron owns shale gas concessions in Romania. Starting exploitation remains a challenge, as local authorities want to see clear studies, which show that shale gas fracking is safe.
Ovidiu Posirca