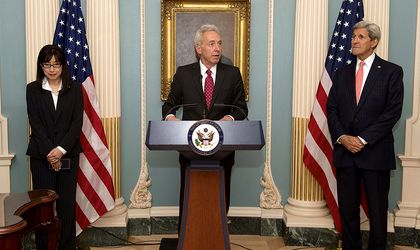 US ambassador to Romania Hans Klemm has stated that "the protection of free speech, even if offensive, is a foundational aspect of a healthy democratic society" as a response to the so-called "defamation" draft bill, according to a remark published on the Embassy website on Monday. Moreover, "while we condemn discrimination and hate, we also oppose laws that prohibit offensive speech at the expense of freedom of expression," he further clarified.
Romanian politicians have also condemned the draft bill, fully named "Law project regarding the promotion of human dignity and tolerance towards group differences".
Alina Gorghiu, co-president of PNL, has said that "freedom of expression could cost us a steep price, according to Liviu Dragnea's censorship law", further adding that "26 years from the revolution, the successors of the Communist Party are doing what they know best: fencing in people's rights," in a video post on her Facebook page.
Ever since the end of last year, several non-governmental organisations have also said that the law is "a brutal attack to the idea of non-discrimination in Romania", "institutes collective responsibility", and "allows the sanctioning of requests for autonomy from minorities," as cited by Mediafax.
Moreover, "this project contains vague definitions allowing for abuses, including limiting freedom of expression. It's also a project that institutes within the CNCD another sanctioning body unfit for the discrimination domain, and which doesn't respect standards of independence, transparency and minimum procedural guarantees," further stated the NGOs, according to Mediafax.
Speaking from the other side of things, Marian Neacsu, leader of deputees from the Social Democratic Party (PSD), claimed that "it is a modern and necessary law. It has nothing to do with censorship", with the caveat that "the law was not explained sufficiently well", according to Mediafax.
The law, initiated by PSD leader Liviu Dragnea and adopted by the Judicial Committee and the Human Rights Committee of the Romanian senate on February 9, includes the creation of a Department for the Promotion of Human Dignity and Tolerance within the National Council for Combatting Discrimination.
The deputees from the Judicial Committee and the Human Rights one also raised the total of fines for those who bring prejudice to the image of a group or community.
Andreea Tint