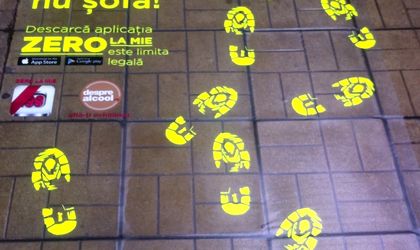 The impact of alcohol consumption on car accidents depends on both pedestrians and drivers. This is the message communicated by the most recent awareness campaign launched by Ursus Breweries and the Romanian Police called " Pastreaza controlul! "
Anda Sebesi
Part of an ample initiative by both organizations, the campaign promotes the responsible consumption of alcohol. The campaign has two directions and addresses both the drivers and pedestrians. The message "Daca mergi asa, nu sofa!" addresses the drivers and reminds them that if they are under the influence of alcohol (the legal limit is zero) they shouldn't be driving while through "Nu transforma mersul pe strada intr-un sport extrem!" pedestrians are advised to consume a moderate amount of alcohol while they go out.
"The moderate consumption of alcohol is the main message that we deliver through our new awareness campaign. It is important to be responsible both as drivers and pedestrians. Hence, we want to sound the alarm about the dangers caused by excessive alcohol consumption to offer consumers the tools through which they can estimate the remaining time it will take their blood alcohol level to reach zero," says Robert Uzuna, director of corporate affairs at Ursus Breweries. He adds: "It is about the ("Zero One Thousandths") application developed in partnership with Mina Minovici National Institute for Legal Medicine". He says that the initiatives that promote the responsible consumption of alcohol are part of the company's strategy for sustainable development, called Prosper, and it is one of their five objectives.
According to a study conducted at the end of 2014, youngsters from Bucharest have wrongly estimated the time by when the alcohol they had consumed had been eliminated from their blood. They indicated a longer time than that calculated with the help of the Zero la Mie application. Plus, many of them didn't know exactly what the legal level of blood alcohol concentration is before driving and how long it takes the human body to process the alcohol consumed in order to post a "zero one thousandths," or zero blood alcohol concentration.
Hence, in order to increase the level of information about the fact that Zero la Mie is the legal limit to drive, Ursus Breweries and Romanian Police will lay out the graphic message of the "Daca mergi asa, nu sofa!" campaign within the Ursus Breweries partner bars located in the Old Town and Regie. As for the pedestrians, they are encouraged throughout this campaign to not transform their walking on the street into an extreme sport and maintain a responsible limit when drinking while going out, in order not to fall victim to a car accident.