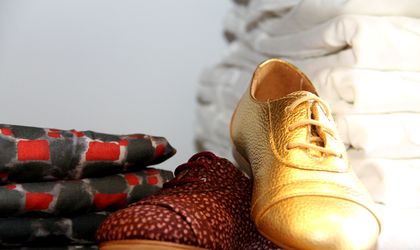 "Luxury lies not in richness and ornateness but in the absence of vulgarity." The famous definition coined by the iconic French fashion designer Coco Chanel neatly sums up how luxury lifestyle choices are used to flag up social status. And local consumers are on the high-end bandwagon too. Specialists told BR about the categories of luxury available in Romania.
Anda Sebesi­
Although the economic crisis has laid waste to many fields of activity in Romania since 2008, the local luxury industry appears to be weathering the economic storm, and remains the second largest EU market in Eastern Europe after Poland. According to www.cpp-luxury.com, a portal specialized in upmarket products and services, Alfred Dunhill, Burberry, Valentino, Gucci, Ermanno Scervino, Max Mara and Gerard Darel are among the international high-end brands that made significant steps in their development on the local market in 2011.
The same source reports that German premium brand ESCADA opened a mono-brand store in Bucharest in May, following recent openings within the JW Marriott Bucharest by Valentino and Ermanno Scervino (at the end of last year) and Alfred Dunhill. Last but not least, Burberry, the iconic British brand, was launched officially on the local market in May. The website reports that no other major luxury brands are seeking to enter on the local market in the near future while 2013 will see interest from international brands such as Prada, Bottega Veneta and Tiffany.
So what is the profile of the Romanian luxury consumer? Clearly he or she has had a far shorter exposure to luxury than the Western equivalent. And while Romania keeps up with international trends in fashion, the local level of service sophistication is quite low compared with Western countries. Specialists say that the existing Romanian luxury market is comparable with those in CEE, even though Romania is below the average in the region for the number of brands present and the consolidated value of the market.
Representatives of major players active in the international luxury scene seem to be circumspect about the prospects of this field in the years to come. "The luxury market in Europe is in evident difficulty, especially in Southern Europe. Whoever denies this does not want to face up to the reality," said Gianluca Brozzetti, CEO at Cavalli, on the sidelines of the Just Cavalli 2012 autumn-winter show, quoted by Reuters. "We must be careful because 2012 will be a difficult year for those who are most exposed to Central and Southern Europe."
Meanwhile Altagamma, Italy's luxury goods trade association, also quoted by the news service, expects the global sector to grow modestly in 2012 on the back of strong consumption in Asia and better prepared businesses. Reuters adds that an economic slowdown in Europe fuels concerns about a repeat of the 2008-2009 financial crisis, when the luxury industry suffered a slowdown of a kind unseen in decades.
Luxury learning
Parents who want their children to receive a top quality education can choose an exclusive kindergarten or school. Many such institutions have extended their syllabuses in the past few years, offering several new courses in addition to activities stipulated by the official curricula, experienced professionals, healthy dietary alternatives and higher quality furnishings. "Private education in Romania has improved a lot, also in parents' perceptions. They have become more trusting and consider this alternative as much as state education," says Anca Biris, administrative manager at private school and kindergarten IOANID. She adds that foreign languages, strict education, good conditions, low student/teacher ratios, safety, the professional experience of teachers, the food and long hours are some of the factors that persuade parents to choose a private kindergarten or school. "In addition, many private educational institutions intend to get both Romanian and international accreditation," she says.
Asked about the market, Biris says that there is plenty of room for growth in the coming years because demand, especially for kindergartens, is still high. As for IOANID's tariffs, extended hours at kindergarten, which include activities from the curricula, six optional activities, an intensive English program and four meals, cost EUR 6,500 a year. A standard program at school, which includes morning courses, an intensive English program, two optional activities and four meals, costs about EUR 6,800 a year.
Healthy outlook
Although Romanians are Europe's laggards when it comes to sports, local gyms attract businesspeople, athletic types, artists and other people concerned with their appearance. "Fitness clubs have become real social hubs. People choose them not just for their services; they are places where members can also meet their business partners," says Petru Pacuraru, managing director at Sky Wellness. The center was launched in Bucharest in February with an investment of about EUR 600,000 and is equipped with the latest generation of Technogym equipment.
"Luxury in fitness means the quality of the equipment, internationally well known brands, exceptional products and coaches whose performances convince people that it is worth following the programs they recommend. A fitness center that aims to rank high for its luxury services needs to convince its customers through its quality of services, location and the quality of customers that come to that center," says Pacuraru. He adds that at present the Romanian fitness market is worth about EUR 30 million and is dominated by four players that are trying to increase their business and keep their customers through aggressive marketing strategies. "The growth was about 50 percent a year until 2010. Since then it has settled down," adds Pacuraru.
No kidding about children's fashion
The local luxury kids' clothing market is one of the fields with huge investment potential, say players. This is because some high earning parents believe that their children need the right start in fashion just as in any other area of their personal development. "There are both luxury stores for children in Bucharest and significant international brands in Romania so parents don't need to travel abroad to buy these clothes. When purchasing luxury clothes for children you need to consider several elements: quality of materials, colors, fit," says Silvana Berciu, managing partner at Anastasia and the Funky Twins and www.oggy.ro. She adds that her customers make a lot of money and so are sensitive to issues of quality and style for their children. In her opinion the local luxury kids' clothing market is not very crowded at the moment. "Instead we're talking about market niches that have been exploited by different entrepreneurs who have understood the market and found customers who want to buy very high quality clothes for their kids. Parents are very sensitive when it comes to clothes shopping for their children and I think that this is the main reason for this market's huge potential in Romania," says Berciu. The online boutique www.oggy.ro was launched in September 2009 while the traditional store was opened in March 2010 when the firm became exclusive representatives of Bonpoint in Romania. The initial investment was about EUR 120,000. Bonpoint, Finger in the Nose, Yporque, Little Paul And Joe (clothes), Galluci, Bensimon, Ash, Petite Maloles, Start Rite and Maman et Moi, Falke and Nilai Paris are available in the store or at www.oggy.ro.
Men swear by menswear
Men who prefer a tailored suit to something off the rack are the target of Tudor Personal Tailor, a studio that specializes in made-to-measure menswear (MTM). "This concept is only just gaining awareness and being promoted in Romania. It will take two or three years until men fully understand the features and advantages of MTM. But the trend is increasing visibly and new companies that enter the local market confirm men's greater interest in this service," says Alin Copindeanu, managing partner at Tudor Personal Tailor.
He adds that time-pressed businessmen who don't have time for a shopping spree are the firm's demographic. "Being a customized service attached to the product, people are open to the opinions of apparel professionals and agree to a meeting," says Copindeanu. He adds that the standard delivery time for a bespoke product is 20 days. "In an emergency we can make a suit in 7-10 days for an additional fee," he says. Prices start from RON 1,900 (about EUR 400) for a two-piece suit and can exceed EUR 1,000.
High-end holidays
Who hasn't dreamed of holidaying in an exotic destination and being treated like a king or queen? And the dream can become reality as local travel agencies cover such destinations nowadays. However, specialists say that demand for luxury destinations has been static over the past few years.  "Potential  customers take several vacations a year, out of which one is for sure a luxury one," says Madalina Pacuraru, managing partner at HasHas Travel. She adds that the best sold destinations remain Cuba, the Caribbean, the Dominican Republic, Mauritius, Mexico and Thailand. "In Romania, exotic destinations like Africa or Fiji costs tens of thousands of EUR," notes Pacuraru.
She says that Romanians able to spend a lot of money on a luxury vacation would rather shell out at least US 1,000 per night to stay in a small and stylish hotel. "Such hotels typically guarantee them an extraordinary view, many employees to take care of all their needs, 24-hour room service and a diversity of restaurants that offer them intimacy," adds the managing partner.
The tourism agency has in its portfolio luxury destinations such as Hawaii, Venezuela, Columbia, Bali, Singapore, Kenya and Mauritius. For other destinations including the Maldives, Thailand, the Seychelles, French Polynesia, Bali and Bora Bora it can customize the vacation according to its customers' preferences and budget.
Elsewhere, Sorin Stoica, CEO at Eturia, says that luxury vacations account for 20 percent of total demand of Eturia. The travel agency offers high-end destinations worldwide because it specializes in tailor-made vacations.
"A luxury vacation is a trip to a special place, with sensitive and impeccable service, attention paid to the atmosphere, a complete experience that gives the tourist the privilege of having access to areas that are inaccessible to the general public. A luxury vacation is a trip beyond the ordinary, truly customized and dedicated to those who want to travel the world in style. It is about exclusivity, sometimes eccentricity, regardless of the costs," says Stoica.
Getting the look
To help one look the part, aesthetic consultancy services are also available on the local market. For some people this might be a natural step in their development and success while for others it could be an opportunity to rise up the ranks.
"A changing image involves a gradual improvement, based on a specific plan and going through certain stages," says Mirela Paduraru, personal image advisor, cosmetics trainer and professional makeup artist. According to her, the plan will be based on factors like the person's profession, schedule, budget, free time and state of health. "This process may take from two months to two years," says Paduraru. Image matters in the business world, which is why creating a public image and maintaining it has both a direct and indirect impact on a person's success. "The right progressive changing of look will see the beneficiary get constant compliments without the changes actually being noticed," says Paduraru.
Cashing in on private banking
The segmentation of services on the local banking market has persuaded many lenders to include private banking and platinum cards in their portfolios. Both can be considered luxury bank products as they are designed for rich customers who can enjoy having a personal banker or a platinum card in their pocket.
BCR, BRD, Raiffeisen Bank, UniCredit, ING, Banca Transilvania, RBS and Citibank are among the lenders that have private banking services in their portfolio. The minimum amount of money to qualify a customer for such services on the local market varies from one bank to another and can be between EUR 40,000 and EUR 200,000, according to current data.
In addition, a private banking customer gets access to exclusive locations and special conditions for borrowing money from the bank. For example, UniCredit Tiriac Bank launched in March two exclusive products: a credit card for corporate customers, MasterCard Corporate Credit Card, and a new debit card for private banking ones, MasterCard Platinum Debit Card. Holders of the latter get more generous limits on transactions (RON 20,000/day, 20 transactions /day both for POS and ATM transactions) and can attach up to five current accounts in RON, EUR, USD, GBP and CHF.
Meanwhile, Visa Platinum from Banca Transilvania is a premium product created especially for the top management of very large companies and public businesspeople. It is a credit card with a RON account attached, issued for a period of three years with a credit limit of up to EUR 30,000 (or the equivalent in RON).
The bling's the thing
For jewelry and watches luxury means more than design and price, say industry players. It is also about uniqueness, high quality materials, technology, the story behind the product, its history, customer service, buying experience and its beauty. All of these combined with the price make a piece of jewelry or watch a piece of art. Helvetansa is a big name on the local scene, stocking products by Audemars Piguet, Chaumet, Jaeger-LeCoultre, Piaget, Vacheron Constantin and Longines, Baume& Mercier, Certina, etc (watches); plus Chaumet, Dior, Frieden, Furrer-Jacot, Piaget, Leo Wittwer and Pilgrim (jewelry); and Buben&Zorweg, Cartier, Jaeger-LeCoultre, Kieninger, Reuge and Swisskubik (accessories). Moreover, Helvetansa announced recently that it would organize a two-session course in watch-making, giving participants the opportunity to create their own mechanical pocket watch, under the tutelage of top professionals.