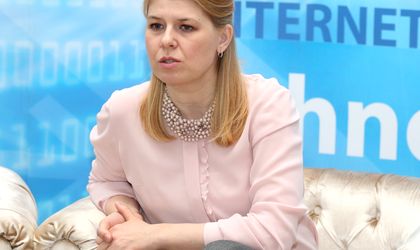 Telecom operator UPC Romania, part of LIberty Global, released financial indicators for the first quarter of the year which show that revenues on the Romanian market have surged by 7 percent , with internet being the drive engine.

Out of the total growth in revenues of USD 2.3 million, 57 percent were brought by the internet.
The company added 10,000 new customers to its base, and at March 31, its total customer base stood at 1,179,500.
At March 31, UPC had 1,862,200 revenues generating units (RGUs), representing a 6 percent upward trend.
Internet revenues hiked by 20 percent compared to the similar period last year, as UPC's Fiber Power services brought about 52,000 new subscriptions, up by 15 percent.
At the end of the first quarter, UPC offered Fiber Power to 395,000 customers, with 68 percent of these having opted for high-speed internet offers of 60 Mbps, 100 Mbps, 150 Mbps or 200 Mbps.
Approximately half of the internet customers have Wi-Fi, and UPC estimates this number will grow to 70 percent by yearend.
While last year, UPC launched the UPC TV and UPC Phone applications, this year a new mobile application My UPC mobile app was launched, free for UPC customers.
In Romania, the internet penetration rate is 50 percent, under the European average of 70 percent. This is why the company believes this area of services has great potential, and has invested in expading its Fiber Power 200 Mbps services across the country.
UPC Romania invested last year EUR 30 million in Romania. "In 2013 we invested in the network, expanding the areas where we are offering 3Play digital services and proving the capacity of the UPC network to deliver high speeds of up to 1 Gbps," said Pascu.
At the moment, over 2 million families in Romania use high-speed broadband internet from UPC Romania.
"The results we have achieved during this quarter make us glad, since they confirm that we have chosen the winning card- the internet," said Severina Pascu (in picture), CEO of  UPC Romania & Hungary.
In television, UPC signed 15,400 new contracts for digital TV cable, with an annual growth of 13 percent. At end-March, over 16 percent of UPC's digital TV customers had HD TV.
On the voice segment, UPC saw a 21 percent annual hike. The company currently has  294,500 telephony customers.
UPC is fishing for new acquisitions in Romania
UPC revealed intentions to take over cable operators on the Romanian market. The operator is pursuing smaller companies with a customer base of up to several tens of thousands customers.
"There is a high likelihood that we will be making an acquisition by the end of the year. We are presently interested by local operators that should complete our business very well. We are looking forward to such acquisitions," said Robert Redeleanu, marketing director of UPC Romania, quoted by Ziarul Financiar.