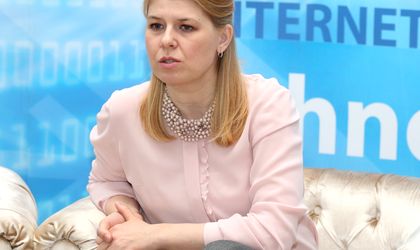 UPC Romania revenues increased by 8 percent in 2013 compared to the previous year, with revenues reaching USD 140.3 million in 2013.
"An 8 percent growth is very good both for Liberty Global and for a market as competitive as Romania," said Severina Pascu (in picture), CEO of UPC Romania & Hungary.
The company posted an annual 6 percent growth in its revenue generating units (RGU), reaching at the end of 2013 a total of 1,842,900. Compared to 2012, the subscription base increased by 109,000 RGUs.
Furthermore, the UPC customer base increased up to 1,188,300 clients, after winning 28,000 new clients in the fourth quarter compared to the previous quarter.
UPC Romania invested last year EUR 30 million overall. "In 2013 we invested in the network, expanding the areas where we are offering 3Play digital services and proving the capacity of the UPC network to deliver high speeds of up to 1 Gbps," said Pascu.
"In 2014, we plan to offer Internet Fiber Power at speeds of 200 Mbps throughout the entire UPC network," said Pascu.
At the end of December 2013, over 15 percent of the total digital base of the company representing 70,000 clients had HD TV. All UPC TV customers have at least 4 HD channels included in the standard package. The operator offers in total up to 27 HD channels. "At the moment, we have more digital TV clients than clients of analog TV," said Pascu.
"There is not much room for growth on the TV market because the market is already mature," said Pascu.
On the internet segment, UPC gained 200,000 new clients in the fourth quarter, with a 5.6 percent growth compared to the previous quarter. The annual growth on the internet segment was 14.4 percent, representing over 48,000 new Fiber Power subscriptions.
"The internet is the engine of growth of the residential sector. We expect internet will bring the highest growth for us,"
At the end of December 2013, UPC had a base of 381,000 internet customers, 63 percent of whom have high-speed Internet Fiber Power. The company has over 170,000 clients who benefit from the Wireless Internet solution.
At the moment, UPC has a pilot project in Timisoara testing upload speeds of 20 Mbps for clients who have Internet Fiber Power 200 Mbps. At the  moment, the company offers upload speeds of 6 Mbps.
UPC Romania may launch in the future mobile telephony and internet, with Pascu saying she is currently "analyzing" this option.
On the telephony sector, the company had over 279,000 subscribers in the fourth quarter, up 7.3 percent compared to the previous quarter. The annual growth on the voice segment was approximately 2 percent.
Otilia Haraga