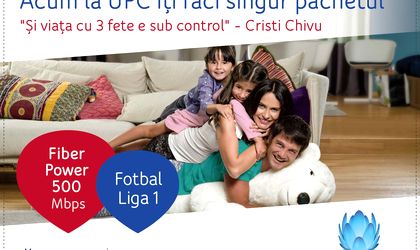 Customers of telecom operator UPC Romania now have the opportunity to customize their telecommunications offer by picking out the TV channels, internet and telephony offer they wish to be part of their package after the company introduced a new portfolio, which allows for 1,000 possible combinations. 
The company made this step after carrying out a survey among its customers to see what their communications needs are. The desire to customize their telecom package was a common denominator.
"For the consumers, connectivity now exceeds in importance the entertainment, which is why the internet service has a prime place in our offer. From the viewpoint of the recently growing online consumption of films, music, TV programs and games, consumers appreciate both the speed and the stability of the internet service. The freedom to choose the right services and the opportunity to configure their package are two very important things we now place at the disposal of our customers," said Robert Redeleanu, chief marketing officer UPC Romania.
The promotion ATL, PR and online campaign has as protagonists Romanian soccer player Cristi Chivu and his family.
UPC announced the launch of the Fiber Power 500 Mbps service, which offers internet speeds between 60 Mbps and 500 Mbps, in eight Romanian cities: Bucharest, Timisoara, Cluj-Napoca, Ploiesti, Iasi, Galati, Constanţa and Alba Iulia.
As for TV services, UPC has introduced the Smart package for families with children, which includes all childrens' channels and documentary channels. The Smart package adds nine new channels to the UPC portfolio.  The operator has also replaced its TV Familia package with the Optim package in digital format. The subscription includes 51 unscripted channels in standard format and 10 channels in HD format, which can be received without mediabox.
The company also introduced new telephony packages, which offer unlimited conversations in fixed  and mobile networks in Romania and to other European destinations. The new portfolio includes several predefined packages that clients can customize as they wish.
Otilia Haraga