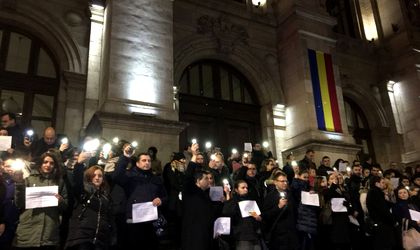 The steps of the Palace of Justice in Bucharest were filled on Monday evening with magistrates that were protesting against controversial changes to the judiciary pursued by the ruling coalition PSD-ALDE.
Similar protests took place earlier today in Cluj-Napoca and Constanta.
In the Romanian capital, the magistrates had printed papers with an article from the law regarding the status of judges and prosecutors:
"I swear to respect the Constitution and the laws of the country, to defend the rights and fundamental freedoms of the persons, to fulfill my obligations with honor, conscience and without sides. So help me God," said the article printed on paper by magistrates.
Their protest came one day after tens of thousands of people marched on the streets of the Romanian cities, asking the coalition to drop the controversial amendments to the Criminal Code, Criminal Procedure Code and the laws of justice.
The changes are currently debated in Parliament.
Photo by journalist Stoica Ionel