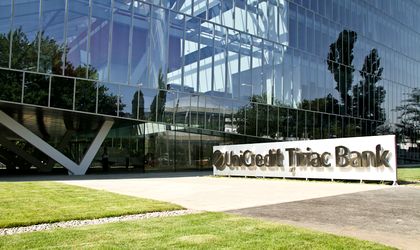 The consolidated net profit of UniCredit Tiriac Bank and UniCredit Consumer Financing rose 18 percent to EUR 16 million in the first quarter against the same period of last year on the back of lower provisioning, while demand for new loans remained weak.
The bank's operating income added 0.5 percent to EUR 83.2 million, due to gains in the commissions and trading incomes. Operating expenses, meanwhile, increased by 4 percent to EUR 39.5 million.
The loan book of UniCredit Tiriac Bank shrank by 2.5 percent against the end of last year to EUR 4 billion (EUR 4.5 billion if externalized loans included) as demand for new loans has failed to pick up. Provisioning for risky loans fell by 11 percent to EUR 25 million.
The bank said it has registered a 50 percent gain in income from loan facilities granted to projects backed by EU grants to EUR 576,982, taking the loan utilization volume to EUR 73.2 million. Deposits have amounted to EUR 3 billion, taking the loan to deposit ratio to 135 percent.  
Rasvan Radu, the bank's CEO, said in a statement that the market remains difficult for the private sectors, as the positive macro economic figures did not trickle down to companies and households.
"Although it remains at a modest level, we estimate a slight increase in appetite for loans in the next period. For the rest of 2014, the good news could come from EU funding or large infrastructure projects," said the CEO.
The bank's assets amounted to EUR 5.8 billion and the capital adequacy ratio stood at 14.1 percent.
UniCredit Tiriac Bank operated through a network of 188 branches by the end of March, and the number of employees in the banking and consumer financing businesses reached 3,116.
Ovidiu Posirca