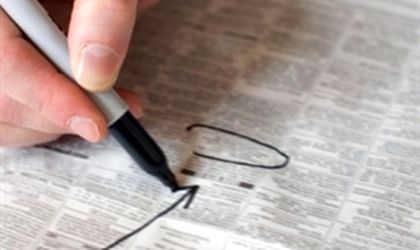 The number of unemployed persons rose by 1,200 in June compared to May, the unemployment rate reaching 4.94 percent, show data by the National Agency for Labour (ANOFM).
The number of unemployed people rose to 446,703 people, an increase of 1,209 people compared to the previous month. The unemployment rate was 4.94 percent nationally, up 0.01 percentage points compared to May and by 0.06 percent year on year.
The largest share in the total number of people represent the unpaid unemployed, 363,865 people (81.46 percent). The number of compensated unemployed in June was of 82,838 people.
By gender, male unemployment rate decreased by 0.03 percentage points compared to May, reaching 5.32 percent while the female unemployment rate increased by 0.06 percentage points, reaching 4.50 percent .
By age, the highest number of unemployed continued to be registered in the age group 40-49 years with 126,778 people, followed by the age group 30-39 years (97,351 people) and over 55 years (72,436 of people), the lowest unemployed numbers being in the age group 25-29 years (36,011 people).
The unemployed without education and those with primary education, secondary and vocational education have the largest share in the total unemployed registered by the ANOFM (79.17 percent) while unemployed with upper secondary education level reach 16.02 percent of total number of unemployed, and those with university education 4.81 percent.
The highest levels of unemployment have been reached in the counties of Teleorman (11.06 percent), Vaslui (10.06 percent), Buzau (9.59 percent), Mehedinti (9.36 percent), Galaţi (9.29 percent), Dolj (8.70 percent), Gorj (8.23 percent), Olt (7.49 percent) and Alba (7.18 percent).
ANOFM also states that the unemployment rate fell in 21 counties, the largest decreases being in: Alba (0.60 percent), Bihor (0.35 percent), Vaslui (0.34 percent), Bistrita (0, 19 percent), Arges (0.18 percent) and Constanta (0,16 percent). Timis county recorded the lowest unemployment rate in June at 1.34 percent.
Natalia Martian