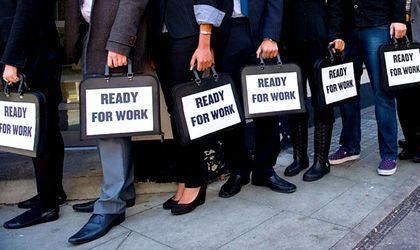 The unemployment rate for people aged 15 to 24 was highest among age groups during the last quarter of 2015, standing at 21.8 percent, according to data from the National Institute for Statistics (INS).
Within this age group, women had a higher share in unemployed persons, of 25.5 percent, as compared to men, who stood at 19.6.
Overall, the unemployment rate in the fourth quarter of 2015 was 6.6 percent, a slight increase over the previous quarter (6.5 percent).
By gender, the gap between the two unemployment rates was 1.3 percentage points (7.2 percent for men as against 5.9 percent for women), while by residential area it was 0.3 percentage points (6.5 percent for urban area, as against 6.8 percent for rural area).
The economically active population of Romania for the mentioned period stood at 9.08 million people, out of which 8.4 million were employed and 602,000 were unemployed.
During this time, the employment rate for working age population (15‐64 years) was 61.4 percent, decreasing quarter on quarter (1.8 percentage points).
The employment degree was higher for men (69.7 percent as against 52.9 percent for women) and for residents from urban area (62.2 percent as against 60.4 percent in rural area).
Youth (15‐24 years) registered a relatively low level of employment (23.5 percent), surpassing only the 65 plus age group (8.1 percent). At the other end, the age group enjoying the highest employment rate was the one between 25 and 54 years old (77.4 percent).
Recent data from the INS show the number of available work places has gone up last year.
Natalia Martian