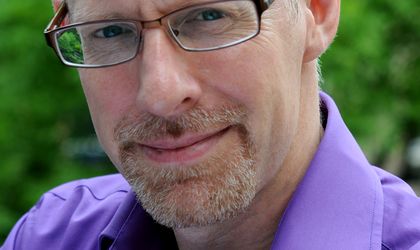 Professor Richard Wiseman, one of the UK's most popular psychologists, was in town last weekend to address the humanist conference Education, Science and Human Rights, which took place at the People's Palace. Drawing on his background as a magician, Wiseman's speech, Investigating the Impossible, explored some of the sleight of hand and assumptions than lead people to draw false conclusions. After the talk he sat down with BR.
By Debbie Stowe
Do you think religion has much of a future?
I think that's quite a complicated question. My hope is in terms of organized religion exerting large amounts of control over particularly school kids, that it doesn't have a future. In terms of individual people believing what they want to believe and what they find most comforting, as long as they don't then push those beliefs on others, I hope that it does have a future. Like most atheists, I don't believe – like every atheist I don't believe! – but it doesn't mean that you don't want other people to believe. What you don't want is it being imbued within the state so that kids have to go to church or have to pray, or you've got religious people making policy.
So do you have a position on topics like the burka?
No, I think people can wear whatever they want. But everyone has the same right to wear it or not; there's nothing special for anyone who claims to be from a certain religion. So you can't say, "Well this person can wear a burka because they're a Muslim, but this person can't because they're Jewish." That's what you can't do. It's a level playing field.
You mentioned the teaching of religion in schools. Do you think psychology and critical thinking should get more of a role in the classroom?
I think critical thinking should. I think it would be lovely if kids left school being able to think about any topic from many different angles, being able to conduct experiments or at least know what experiments need to be conducted. So when they hear a claim, whether it's from a drug company or from a church or wherever, they can go, "Hold on a second, have you got the right evidence to support that? Because you're asking something of me, either my money or my time or my vote, or whatever." In politics, when a politician says, "We've got this educational system" they can say, "Does it work? What's the evidence? Is it any better than any other?" So it should be more evidence based, I think.
I understand that you had some difficulty finding a US publisher for Paranormality [Wiseman's book debunking paranormal myths]? Why do you think that was?
I did, yes.  Publishing is obviously a business; it's not a public service. And the experience of American publishers has been that if you go into the paranormal realm, it's the "pro" stuff that sells; the sceptical stuff doesn't. So even though my other books have been published by mainstream publishing houses like Random House, Paranormality didn't find a place there. The great news is that I published it myself, because you can do that now with the Kindle. And actually it sold pretty well over there. So hopefully they were wrong, but that was my experience.
I read 59 Seconds [Wiseman's book exposing self-help myths and presenting scientifically proven self-help techniques] and found it useful. Are you able to use those techniques yourself?
Funnily enough, when I was going through the literature and choosing which techniques to put in there, I didn't allow one in that I wouldn't be prepared to do myself. That was the kind of bar. Not to say that I do them but I would be prepared to do them. Because there's a lot of self-help out there where the technique is so weird or so time-consuming. And it's not just self-help for individuals. If you look at businesses and corporate training, you've got NLP and Myers-Briggs, yet there's no evidence for any of this stuff – or very little reliable evidence! And yet businesses pay large sums of money for these corporate trainers. So I think they should be critical consumers as well.
What's your next project?
Well, I was hauled away from it to come here, actually! So I'm writing one more book and it will be out next March – that's the good news. The bad news is that it's a secret project so I can't tell you what it is. But one more book is to come out with quite a controversial take on something. It follows more in the footsteps of 59 Seconds than anywhere else. So I'm working on that.
You can't give us a clue…
Unfortunately not. I would love to but my publisher would get really angry!