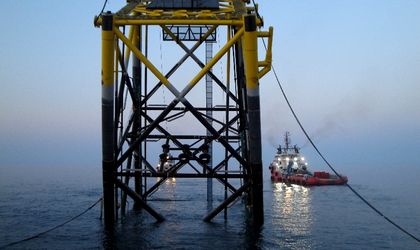 The Romanian economy is hungry for foreign investment and UK businesses are keen to utilize the country's qualified workforce, relatively low costs and the significant EU funds being made available to improve the nation's infrastructure.
By Steve Hemsley
Historically the UK has not been a traditional European trading partner for Romania, with that honor going to countries such as Austria, Holland and Germany. Yet things are changing.
The British Romanian Consultancy, which organizes trade missions for UK companies, estimates that there are already more than 4,500 British businesses in Romania. Many firms regard Romania as the perfect EU gateway to the East and the Balkans, giving them access to more than 300 million consumers.
In March the London Stock Exchange (LSE) and the Bucharest Stock Exchange (BSE) signed a joint agreement to raise awareness in the UK of Romanian investment opportunities. The LSE says Romania is one of the fastest-growing Central and Eastern European economies and offers UK firms "exciting and natural partnerships".
The LSE and BSE are co-promoting a Romania Investment Forum and the LSE is running seminars, training courses and coaching sessions for members of the BSE.
The UK-listed oil and gas exploration company Melrose Resources recently won a contract to begin seismic surveys and drilling in 2,000 sqkm of the Romanian Black Sea. This area is largely underexplored because it was for many years subject to a boundary dispute between Romania and Ukraine. The International Court of Justice found in Romania's favor in 2009.
The project is a positive example of British investment in the country as Melrose is spending USD130 million to help Romania increase its supply of natural resources as demand for energy grows. The company is also bringing British technology and engineering expertise to the country.
According to business advisers Ernst & Young UK, one of the most dynamic sectors for UK firms to venture into over the next few years will actually be renewable energy. The Ernst & Young Country Attractiveness Indices report found Romania to be one of the top 15 most attractive countries in the world for investments in wind, solar and geothermal power, putting it ahead of Poland and Ireland and on a par with Spain, Sweden, Australia and Japan.
However, a spokesman for Ernst & Young says UK companies considering investing in Romania are still frustrated by the lack of transparency within the business environment and the amount of bureaucracy.
The London Chamber of Commerce advises UK firms thinking about entering Romania to spend a considerable amount of time researching their particular market and to secure a local resource as soon as possible.
This could be a distributor agreement, a subsidiary, a joint venture deal or an acquisition. A local deal is often vital if companies want to access available EU funds.
London-based executive recruitment business Antal International began working in Romania in 1998 but only opened its first Romanian owner-managed office in 2003. It now has 20 offices across Romania, including a head office in Bucharest. It specializes in industrial and technical recruitment and finding senior staff for the IT, pharmaceutical, retail and fast-moving consumer goods sectors.
When Romania joined the EU in 2007 Antal noticed an influx of multi-national firms moving into the country and requesting its services. A survey by Antal Romania reveals some positive recruitment trends for this year too, with hiring activity in 2012 up 30 percent compared to 2011. The company is opening a new office in Cluj-Napoca and expanding into medical and healthcare recruitment for local private clinics.
Country manager Irina Vasile says there have been some cultural obstacles to overcome in Romania. "The business structure is rather formal and hierarchical compared to the UK and conducting meetings in English, French or German as well as Romanian is something we have had to adapt to."
The executive search industry is quite mature in the UK but it was new to many Romanian bosses. "Some clients have asked us to delve deeply into the financial and personal life of candidates. We have had to educate them about our role, which is to source suitable people for senior or specialist roles and present them to clients."
Antal is helping employers to make the most of Romania's economic potential by plugging some important skill gaps. "For years there has been talk of a talent crisis with many industries reporting skill shortages in IT, for example," says Vasile. "We have also been asked to fill skill gaps in sales positions within technical industries where applicants need experience in marketing as well as a deep understanding of the subject. Candidates with both are highly sought after."
UK companies have also found it difficult to get used to the male-dominated nature of many Romanian companies. In the UK the recruitment industry attracts many women and Vasile says that this was initially met with resistance by some clients. "The overall employment market in Romania still lacks diversity and a local understanding of the importance of women in business, but it is far better today than it was."
There are examples where a UK company's experience in Romania has helped other global businesses to enter the country and prosper. UK construction management consultancy Savant had a long history of success here before it was bought by the US technical and management support giant AECOM in 2009.
Savant's knowledge of Romanian business and culture has helped AECOM win a number of large contracts supported by EU funding. These include developing Romania's national transportation system across road, rail and air as well as Constanta Port and River Danube navigation, all with an emphasis on sustainability. The company is working closely with the Ministry of Transport and Infrastructure to meet predicted transport demand in 2015, 2020 and 2030. AECOM is also designing and building the Lugoj-Deva and Orastie-Sibiu motorways and the Deva-Orastia bypass.
AECOM has opened a new office in Bucharest on Polona Street and the Romanian team is now an integral part of AECOM's worldwide network of 45,000 creative and technical experts.
Yet challenges remain. Director Alfredo Biosca says there is limited experience in Romania of working on such big projects. "We are helping to boost technical and administrative competence by leveraging our global expertise," he says. "We have introduced best practice procedures and a robust personal development program for our staff."
UK companies are being encouraged to look for business opportunities that contribute to Romania's development priorities such as energy and infrastructure. Also, more UK manufacturers are expected to invest in Romania as they take advantage of the country's convenient location, which shortens the distance for export sales to the Balkans, the Middle East and Russia.
Romania's huge potential means ambitious UK companies that are keen to expand are searching out local partners to help them deal with the challenges that still exist.
Steve Hemsley is a British business journalist who has written for The Financial Times, The Sunday Times, and CNBC European Business magazine.