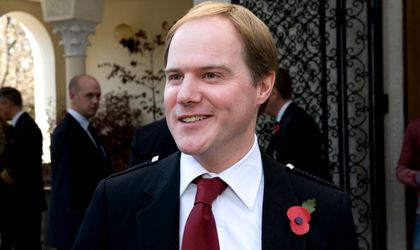 UK ambassador to Romania Martin Harris posted on YouTube a video where he recites, in Romanian, the poem Revedere by Mihai Eminescu, whose 165th birthday is marked today, January 15th. The YouTube video was made in support of the project "Plantam fapte bune" (We plant good deeds), which supports forests preservation in Romania.
In the video, the ambassador explains that January is a month of poets in both Romania and the UK, where Robert Burns, Scotland's national poet, is celebrated on January 25th. Revedere (Reunion), the poem chosen by the ambassador explores the theme of nature and man's place in it.
The UK ambassador has previously posted another YouTube video, reciting the traditional Romanian carol Plugusor and sending Christmas wishes to the Romanian public.
Romania marks today the Days of the Romanian Culture and 163 years since the birth of poet Mihai Eminescu, who died in 1889. Eminescu was a Romantic poet, novelist and journalist, and is one of the classics of Romanian literature. Some of his most notable works are Luceafarul (The Evening Star), Oda in metru antic (Ode in Ancient Meter) and the five Letters. His work was strongly influenced by German philosopher Arthur Schopenhauer.
You can view the ambassador's Revedere video bellow.