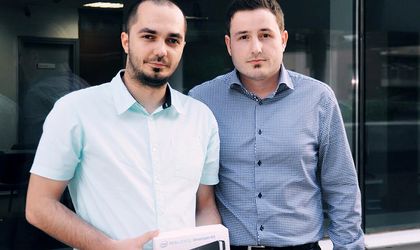 Silviu-Tudor Serban and Andrei Nistor are winners of the Intel® RealSense™ App Challenge, receiving a USD 10.000 cash prize from Intel for their work, project Drill Sergeant Simulator.
The aim of the project was to redefine the boundaries of human-computer interaction. By integrating the Intel RealSense 3D camera, Silviu and Andrei have created a reactive virtual environment, where the components respond to the user's voice commands and can perceive his hand gestures and emotional state.
They are both 27, originate from Hunedoara and together they lead the BadRobot team.
The interactive application, Drill Sergeant Simulator, was created from the ground up for the Intel® RealSense™ App Challenge and it took the form of an immersive game. It is an original concept that belongs fully to Silviu and Andrei.
Drill Sergeant Simulator incorporates several types of input, which are projected in the virtual environment, such as: hand gestures, voice commands (interrogative or imperative), facial gestures and emotions (joy, sadness, etc.).
7.000 projects, representing 37 countries, competed in the Intel® RealSense™ App Challenge global competition. The following European countries were represented on the podium: Romania, Germany, United Kingdom and Ukraine.