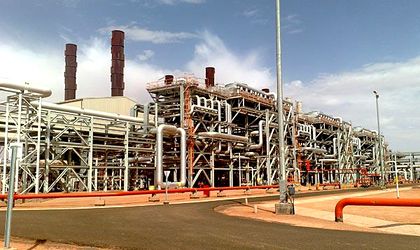 Local authorities announced over the weekend that two Romanians have been killed at the In Amenas gas plant, which was stormed by Al-Qaeda-linked fighters last Wednesday. A military plane was sent on Monday in Algeria to repatriate the bodies.
Five Romanians were taken hostage at the gas field, based in the Sahara desert, which housed hundreds of Algerian and foreign workers. The Algerian army refused to negotiate with the fighters and assaulted the gas complex.
The army killed thirty-two kidnappers and freed 685 Algerian workers and 107 foreigners, according to the interior ministry, quoted by Al Jazeera news station. A total of 37 foreign hostages from eight different countries and 11 Algerian workers were killed in the attack, according to the Algerian PM, quoted by Al Jazeera station. He added that 32 gunmen came from neighboring Mali, where French and African forces are fighting Islamist group.
The plant is run by the British oil & gas company BP, the Norwegian Statoil and the Algerian Sonatrach.
"The events in Algeria have confirmed once again, that strong terrorist groups are capable of killing our citizens and we have to question how we are protecting them. We can't get over the events in Algeria without seriously questioning this," said President Basescu on Monday, during the annual meeting with ambassadors.
"We don't have a final assessment of what has happened in Algeria, but as soon as we will have it, we will state our position. What is for sure is that our innocent citizens died and not only EU citizens, but also Americans, Japanese, people that went with our companies on Algerian territory.
Romania disappointed by Algerian crisis communication
PM Ponta said on Saturday that one Romanian was killed in the fighting and that four were taken to safety. One day later, news emerged that a second Romanian that was severely injured died in hospital.
Robert Cazanciuc, the general secretary of the Ministry of Foreign Affairs, said the ministry of "deeply disappointed" by the fact that Algerian authorities failed to notify correctly and on time the health status of the Romanian citizen.
"We clearly told Romanian authorities that we had one deceased, three freed and one for whom we didn't have any information. When we had information regarding the death of the fifth Romanian, we informed the Romanian authorities," responded the Algerian Ambassador in Romania, Habib Chawky Hamraoui.
Titus Corlatean, the Foreign Affairs minister, will present the implications of the Algerian crisis to the specialized commissions of Parliament on Tuesday morning.
Romania will discuss the deployment of troops in Mali during the next CSAT meeting, due on February 5.
Ovidiu Posirca