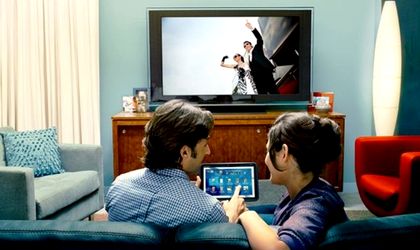 Romanian internet users are spending over 5 hours a day hooked to the internet, browsing or using online services, as shown by Digital Scope, a study made by IAB Romania along with partners from IAB Europe.
While TV remains the predominant media in terms of consumption (60 percent of the internet users are accessing TV on daily basis also), the time dedicated to this medium decreases (1 – 2 hrs/day) and the interest of the public is divided between multiple devices. Therefor, 68 percent of the Romanian internet users access the internet while watching TV on multiple devices.
Digital Scope is a research project made by local IAB offices in 8 CEE countries (Bulgaria, Macedonia, Poland, Romania, Serbia, Slovakia, Slovenia and Turkey) with the purpose to provide important and useful info both to clients and also to strategists from agencies in order to understand the way media and tech are consumed by their target public within CEE region.
The study provides data like TV consumption in Romania, along with other media, devices internet is most accessed and in which proportion, data on multiscreening (time and activities made from multiple screens), preferred hour intervals for accessing certain media, the place internet and its tools have in information and buying decisions made by consumer and other data which can be aggregated as part of communication strategies. In the same time, the study shows the internet usage in 4 main categories of activities made by consumers: entertainment, communication, information, buying & financing.
In Romania, TV is still the main media, watched on daily basis by 60 percent of the internet users; from those, only 53 percent are accessing the internet on daily basis (compared to 66 percent in CEE), on average for 5 hours a day. Still, TV became for more internet users a background medium, with 43percent of them checking and answering e-mails, 38 percent accessing social networks while watching TV, 35 percent browse the internet, 28 percent are looking for products seen on TV and 26 percent have activities related to school or work.
Only 13 percent are visiting the website or look for info on the TV program they are watching. The time spent on the internet surpasses the time spent on TV, with over 20 percent users spending over 5 hours daily online. Also, 63 percent are online on multiple devices in the same time.
Also, 75 percent of Romanian internet users are going online from their smartphones, mainly to check emails, communication programs, maps and location-pinning programs. Also, the smartphone has an important place in the entertainment, communication and information areas, but less in acquisition, investments and finance. From advertising's point of view, ads within apps or advertising on mobile are over region's average, considering the degree of usefulness in informing consumers.
The study identifies the differences in terms of activities made online, depending on the devices it is accessed from. Laptop and desktop are preferred for internet searches, while tablets are used mainly to read info on brands.
Compared to the region, the Smart TV devices and gaming consoles are areas with development potential when it comes of accessing the internet and brands' interaction with consumers, considering CEE evolution (6 percent in Romania versus 22 percent in the region).
Romanian internet users consider this is an important interaction point with their favorite brands, more than the rest of CEE consumers (64 percent in Romania versus 55 percent in CEE). The most important online channels of commercial communication used to find out info on products or services are considered to be the e-mail (34 percent), links on search engines (30 percent) and brand's presence in Social Media (25 percent). Display advertising is still under region's average when it comes of its informational value related to products or services.
Digital Scope study was made during November 27th – December 28th 2014, with support of IAB Poland, IAB Europe, Mindtake and Romanian local partners (Burda Media, Digital Ads, Fokus Digital Services, Goldbach Media, Hotnews.ro, InternetCorp, Mediafax and Rol.ro). The data was collected via online questionnaires delivered online on partner websites, which cover 70 percent of Romania's online population aged over 16 y.o.
Romanita Oprea