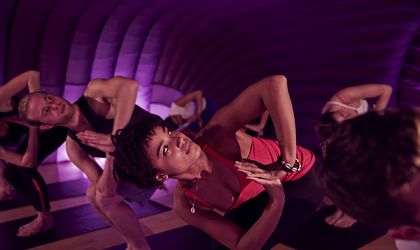 Hot Vinyasa Yoga classes, being held in an inflatable, heated studio in central Bucharest, consist of a 60-minute intensive and balanced physical workout, which promises to restore calm and clarity to the mind in soothing, cocoon-like pods. It is conducted in 37 degree heat.
"Max Henderson and Nick Higgins, founders of HotPod Yoga, realized that the majority of people are intimidated by the contorted positions and the idea of yoga being only for those who already know the poses. With this in mind, they devised the Hot Vinyasa Yoga class, which is adaptable to every level and creates a micro-universe based on simplicity, diffuse light, relaxing music, aromatherapy and, of course, heat," says Alexa Boeriu, communication coordinator of HotPod Yoga Romania.
Currently, there are three locations in London, six elsewhere in the UK, one in Amsterdam and the one recently opened in Bucharest. The concept was launched two years ago and is sold through a franchising system.
Exponents say that practicing yoga contributes to a healthy lifestyle, with proven physical and mental benefits, helping to reduce stress, increase flexibility, and concentrate power and energy. "Heat also helps the body melt into the practice, warming the muscles and aiding flexibility while the heart works harder. A purifying sweat helps ensure maximum benefit from your effort," adds Boeriu.
Since the opening of the center in mid-January, almost 200 clients have signed up. The center will be officially opened on February 6, when the two founders will come to Romania to share their experience with yoga practitioners.
A single class costs RON 50, with subscriptions available for five (RON 225) and ten classes (RON 350). The yoga center is situated in the Universitate area, on 23 Ion Brezoianu Street, inside the Universul building.
Tatiana Lazar