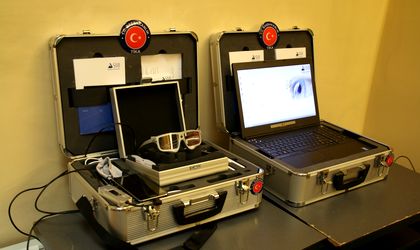 The Turkish Cooperation and Coordination Agency (TIKA) contributed eye tracking equipment of EUR 50,000 to the establishment of the Neuro-marketing Laboratory within the Marketing Research Laboratory of the Bucharest University of Economic Studies (ASE), according to a press release from the agency.
The students of the Marketing Faculty will be able to undergo consumer behavior studies and analysis in different aspects specific to the advertising industry. "The project developed together with ASE will offer the hundred or so students of the Marketing Faculty the possibility to conduct studies in the field, using modern equipment through which they will be able to put into practice the information from their classes," stated Hacı Ahmet Dastan, coordinator of the project coordination office – TIKA Bucharest.
The eye tracking equipment is meant to analyze the gathered information and to transform it into concrete data through software. "For example, with the help of the glasses offered to subjects, students will be able to investigate how a possible buyer's mind works, observing with precision what they are looking at and what they're interested in from what they see," according to the press release.
As such, the buyer's behavior could be defined when he or she enters into contact with the tested elements, such as advertising materials, products or shop shelves. "It will be possible to study the stimuli the observer reacts to, how much attention is given to brand, price, packaging, promotional message or other elements in an image, or what causes confusion during the visual scanning," explains the TIKA press release.
TIKA was established in 1992 with the purpose of providing technical support in order to develop projects in different fields. The agency is undergoing its activity in 200 countries, through 50 offices for project and program coordination.
The program coordination office within TIKA Bucharest was established in 2015.
Andreea Tint