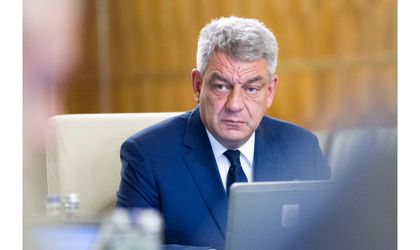 The government has delayed once again on Monday the meeting in which officials should have discussed a raft of changes in the fiscal area, including the way in social security contributions are paid by wage-earners.
"We are talking about a big package, even if this thing will not enter in the first meeting on Wednesday, regarding the contributions, or I think it will not be included," Tudose told representatives of the Association of Municipalities in Romania.
"It's a possibility that it will not be on Wednesday," said the PM, asked about the decision to shift the payment of social security contributions from employers to employees.
Meanwhile, Ionut Misa, the minister of finance, said that the changes in the social contributions system will be debated in the government meeting. He explained that he discussed with the PM who also spoke with representatives of the Social Democratic Party (PSD).
The raft of changes should have been discussed initially during a meeting that should have taken place last Friday, but was cancelled.
According to initial government plans, the gross wage should reach RON 1,900 next year, while the income tax should be slashed from 16 percent to 10 percent.
The center-left government led by Tudose is also planning to enforce a solidarity contribution that would be paid by companies based on the gross wage budget. The rate of this tax is still under debate.
Key representative of the ruling coalition PSD-ALDE have suggested that the fiscal changes might be debated for longer.
"I believe that all aspects have to be analyzed alongside the consequences of such a decision, this is a normal move, ultimately, of minimum wisdom," said the head of the Senate, Calin Popescu-Tariceanu, who leads ALDE.
Meanwhile, the mayor of Bucharest, Gabriela Firea, said the raft of fiscal changes is not "good" because there will be "less" money in the budget for investments.