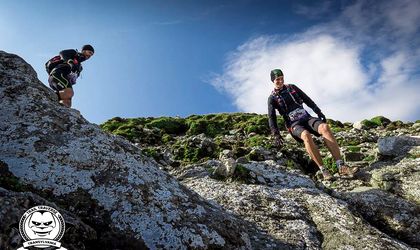 Hundreds of runners from across the world are expected to attend the "Transylvania Trail Traverse" ultramarathon taking place between 4 and 6 of September, say organizers.
The event is at its second edition this year and is expected to gather people from Romania, the United States of America, Austria, Sweden, Poland, Germany, Portugal, Northern Ireland, Serbia, Slovakia, France, Canada, Switzerland, Jersey, the United Arab Emirates, Malta and Turkey. To date 125 athletes enrolled and applications are still open.
The main trail of the competition, the Dracula trail starts in Bran and crosses 106 kilometres of Bucegi Mountains, with a level difference of 8,500+ meters (maximum altitude will be at 2,507 m, on Omu Peak, and the minimum will reach 758 m). It is composed of two loops of 52 and 54 kilometres and goes across three counties (Brasov, Dambovita and Prahova).
There are two other trails, Vlad Tepes trail (52 km), Silvania trail (26 km) and a mini-race dedicated to children aged three to 14 years.
The names given to the trails are connected to the Dracula theme of the event, which organizers believe will bring a boost to local tourism.
"The international ultramarathon TTT is a wild and very technical ride, it is not for everyone and, according to many athletes who participated in the first edition, it is one of the toughest in the country. Meanwhile, TTT is a fairy tale race, with a route that takes you through the most spectacular places in the Land of legendary Dracula: valleys, ice buckets, suspended paths, wild trails, alpine plateaus which overlook breathtaking views and one of the highest mountain peaks in Romania, Omu Peak," says Michael Zlavog, organizer.
The concept of "Transylvania Trail" was founded in September 2012, when the Swedish Sports Club Kullamannen and Trail Running Association in Romania organized an international trail-running race that became the largest competition of its kind in the Carpathian Mountains. The main arguments for placing the international event in Bucegi were the extremely difficult route, the shelter of the forest that climbs up to 1,800 meters, the relatively short distance to the International Airport "Henri Coanda" of Otopeni, but not least the proximity to one of the most popular spots in Romania for foreign tourists – Count Dracula's Castle.
Natalia Martian