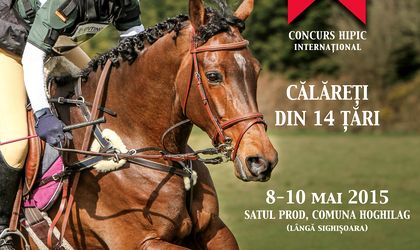 The fifth edition of the Transylvania Horse Show takes place this year May 8 to 10. As in previous years, the international event dedicated to lovers of equestrian sports and horses is hosted by Prod village (Hoghilag), near Sighisoara. The event hosts three types of competitions, supplemented daily by a series of additional demonstrations and events dedicated to the spectators.
Thus, the 45 young riders from 14 countries will come to Prod this weekend, in an area recommended by the "Lonely Planet" guide as ideal for riding, in order to attend the popular event – Transylvania Horse Show.
The young competitors, aged between 18 and 28, will compete in the International University Contest – The Student Nations' Cup (AIEC Student Riders Nation Cup – Romania 2015). During this official section of the competition, horses are made available by the organizer.
The second official competition in the contest is The International Eventing (CCI 1).
The third competition, Eventing – the Novices and Pre-novices category, addresses to horses and competitors seeking for recognition, with less experience in complete equestrian competitions.
Romanians not going to Prod this year will be able to watch the competition on TVR 1, for the second consecutive year, through live broadcasts of some of the most spectacular performances.
Staff