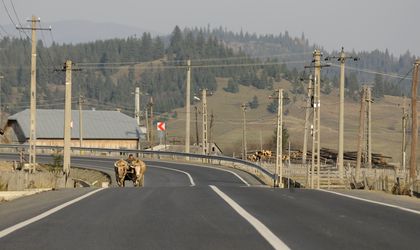 Romania's highway network, currently 700 km in length, will be extended by another 50 km this year and 200 km in 2016, according to Ioan Rus, minister of Transport. The official also said on Tuesday that the necessary financing for highway projects will be EUR 30 billion by 2030, writes Mediafax.
"At this moment, we have a little under 700 kilometers of highway. By 2016, we will surely finish and be able to travel on Sibiu-Nadlac, Cluj-Bors with a shortcut between Mihaiesti and Suplacu de Barcau, which could be completed by 2017, on Cluj-Targu Mures, Targu Mures – Fagaras, Sibiu – Fagaras, Fagaras – Brasov if we are extraordinarily active, if not, than in 2017. Certainly we will have another 250 km of highway in 2016", Rus said in a press conference.
By 2030, Romania could build 725 km of highway and 1,809 km of express roads, at a cost of EUR 28.6 billion, including VAT.
The main sources of financing for infrastructure investments in the next years should be EUR 6 billion in EU funds, the diesel fuel excise, the road tax, concessions and public-private partnerships. The ministry is also looking to loan money from BERD, the European Bank for Investments and World Bank. Romania has EUR 5 billion currently at its disposal from EU funds for 2014-2020.
"The last excuse we can use is that we don't have money", the official stated.
Romania opened 50 km of highway last year (22 km between Orastie and Sibiu and another 28 km between Nadlac and Arad), less than half what it achieved in 2013.