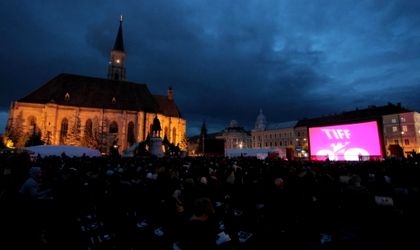 Romania's highest-profile film festival aims to showcase flagship works from contemporary European cinema and bring icons of film before local audiences. The main winners at major festivals in Berlin, Venice, Karlovy Vary, Sarajevo, San Sebastian and Tokyo will have their local premieres at TIFF 2014, with the selection made by artistic director Mihai Chirilov.
The biggest Romanian film festival will bring, once again, hundreds of films, concerts, exhibitions, debates and meetings with filmmakers, between May 30 – June 8 in Cluj Napoca.
The impressive Bai Ri Yan Huo / Black Coal, Thin Ice, by Diao Yinan, is the winner of the Golden Bear and the Silver Bear for Best Actor (Liao Fan) at Berlinale 2014. A fascinating film noir infused with absurd humor, Black Coal, Thin Ice tells the story of a former detective who starts investigating a series of murders that take place in a small mining town in Northern China. The investigation takes him to one of the widows.
Sacro GRA, by Gianfranco Rosi, winner of the Golden Lion in Venice 2013, is the first documentary to win the award in the history of the festival. GRA is the acronym for Grande Raccordo Anulare, the ring road surrounding Rome and its outskirts, thus bringing together extremely different characters:  a botanist, an Ambulance worker, an angler, some prostitutes, a washed-out nobleman and a pair of intellectuals.
Within Supernova, the section focused on recent hits in international cinema, audiences will also enjoy the winner of the Crystal Globe in Karlovy Vary, The Notebook/ A nagy füzet, by János Szász. Hungary's official submission at the Oscars – and one of the short listed films for the Best Foreign Film category – tells the dramatic story of twin siblings traumatized by life in the village they were sent to by their parents in order to be protected by the tragedies of WW2. l.
Another war – the 1992 Georgian civil war – takes center stage in In Bloom/ Grzeli Nateli Dgeebi, winner of the Grand Prize and the Best Actress award (Lika Babluani & Mariam Bokeria) in Sarajevo. Nana Ekvtimishvili and Simon Gross directorial debut tells the story of two young girls facing domestic and social violence during the civil war in Abkhazia.
Bad Hair/ Pelo Malo, by Mariana Rondon (Venezuela), winner of San Sebastian's Golden Shell, tells the outstanding drama of a single mother faced with her son's first homosexual impulses.
We Are the Best!, the new film by Swedish director Lukas Moodysson (Show Me Love, Lylia 4-ever, Mammoth), won the Grand Prize in Tokyo. Based on a graphic novel by the director's wife, this Stockholm-based comedy takes place at the beginning of the 80, when three friends still firmly believe that "Punk is not dead!". A both tender and highly amusing tribute to that decade and to the end of childhood.
Oana Vasiliu