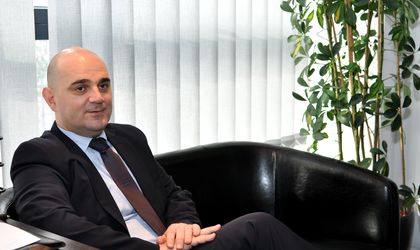 Training and organizational development consultancy company Ascendis is kicking off the New Year with plans to expand its corporate services portfolio and enter new market segments. Andrei Gosu, managing partner of Ascendis, revealed to BR that the company is going to buy a significant stake in experience events start-up Smart Experience and will launch a newbusiness line: Ascendis Corporate Events.
By Simona Fodor
How have Romanian managers' perceptions of the importance of employee training changed, if at all, since the start of the crisis?
In fact, the crisis has not greatly changed the way in which Romanian managers regard training. Some managers view it as an additional cost, others as an investment made in human resources. Nevertheless, budgets have been affected. Therefore, those who consider training an additional cost are now making use of the argument of decreasing budgets, while those who see it as an investment want a better ROI. However, all companies are interested in the professional growth of their team members, and training and coaching are two significant instruments that help to achieve this goal. Speaking of training, I'll tell you a joke that just came to mind. A CFO asks: "What if we invest in employee training and they go to work for the competition?" The general manager answers: "What if we do not invest and they stay?"
From what industries do most of your clients come?
We work with companies from all industries: IT&C, finance and banking, energy, production, pharmaceuticals and FMCG. Obviously, the volume of the projects developed at companies active in a certain industry is directly related to the economic performance of the field. Last year, we had an increase in the number of programs delivered in FMCG, industrial production and retail and a decrease in the financial, banking and IT fields.
From the company's training portfolio, what is in highest demand? Do you plan on adding new courses?
The demand for traditional training programs dealing with general topics, such as leadership, management, sales and emotional intelligence, has remained unchanged. Meanwhile, the demand for specialized programs, with professional certifications, such as those required in the insurance field, SHRM certifications in human resources and the Lean Six Sigma process management program, has grown. Of course, we are planning to expand our product portfolio in this area.
How has the company's Chisinau office performed since opening?
We are very optimistic regarding our business in Moldova. We have had an excellent start. We are now implementing a few very interesting programs. We aim to achieve a turnover of EUR 500,000 in 2013. It is a little ambitious, but not impossible! We have an excellent team there and we really trust them. Moreover, a great deal of the energy and resources from the Romanian Ascendis team will focus on reaching this goal as well.
Where do you recruit your trainers from? What is the profile of those looking to become trainers?
We do our best to develop the Ascendis team with consultants that have extensive experience in various fields of activity. However, we have noticed that a trainer's experience in the same field as the customer's is not always an advantage. There are companies that require a consultant matching their professional background, but there are also customers who prefer consultants with different backgrounds, consultants who have gained experience in totally different fields so that they can come up with fresh perspectives.
The profile of an Ascendis consultant must of course include relevant professional experience, an entrepreneur's DNA and a sense of humor. We have noticed that sometimes experienced trainers come with serious 'defects' and little energy, so we have drawn the conclusion that (previous) training experience is not necessarily an advantage!
What are the company's development plans for 2013?
In 2013, we intend both to diversify the portfolio of corporate services targeted at human resources, and also to develop on new markets.
As a first step – and this is an announcement we are now making for the very first time – we are going to purchase 49 percent of Smart Experience, a start-up company set up two years ago by Dan Ionita, one of our colleagues, which intends to provide organizations with instruments that will assist them with their endless endeavors to motivate employees and retain customer loyalty.
In addition, we are also in discussions, some of them advanced, regarding an association with or acquisition of certain service providers related to our area of interest. Marius Opris and Sorin Paun, Ascendis partners, are responsible for this project. At present, we cannot give you more details, but we are confident that we will be able to make the first announcement before long.
In 2013, Florin Radulescu, another Ascendis partner, is in charge of changing the teambuilding division into a new business line, with an expanded portfolio of competencies: Ascendis Corporate Events. As the name suggests, we intend to become a partner for our clients in a more diversified range of corporate events, whether they are teambuilding sessions, experiential learning, add-on or for-fun events. This is in response to the market demands.
What is the current partnership structure of the company?
Senior partner Costea Dumitrescu holds a 45 percent stake, while managing partner Andrei Gosu and partners Sorin Paun, Ruxandra Milca, Marius Opris and Florin Radulescu each hold 11 percent.
What revenue can you report for the past year?
We are closing 2012 at the level of 2011, which is about RON 18 million.
simona.fodor @business-review.ro